Diplomatic Events
Details

Written by

Buzzy Gordon
Four Central American Nations Celebrate Their National Day
On September 15, 2016, the diplomatic missions in Israel of the Republics of Guatemala, El Salvador, Honduras and Costa Rica, celebrated the 195th anniversary of the independence of Central America at a reception they hosted in Tel Aviv at King David Hall , at Dan Tel Aviv Hotel , for the diplomatic corps accredited to Israel, leaders of the business community and the Keren Kayemeth LeIsrael-Jewish National Fund, and citizens of Central America residing in Israel.
Guests were welcomed in an address by the Ambassador of the Republic of El Salvador, Mr. Werner Matias Romero, on behalf of the Ambassadors of Central America ( HE José Isaías Barahona, Ambassador of Honduras, HE Alfredo Vásquez, Ambassador of Guatemala, and HE Esteban Penrod, Ambassador of Costa Rica) . The full text of the remarks by Ambassador Romero appears below.
The State of Israel was represented by Mrs. Galit Sashó, the Director of Culture of the Ministry of Culture and Sports, and Mr. Modi Ephraim, head of the Latin American and Caribbean desk of the Ministry of Foreign Affairs. In her message of congratulations on behalf of the State of Israel, Mrs. Sashó recalled with gratitude the role the nations of Central America played in supporting the United Nations resolution creating the State of Israel and praised the activities of Israel's Agency for International Development Corporation (Mashav) in Central America.
The official ceremony commenced with the playing of the national anthems of Guatemala, El Salvador, Honduras, Costa Rica and Israel.
During the course of the evening, Mr. Hernán Felman, KKL World Vice President, was presented with a plaque by His Excellency the Ambassador of the Republic of Guatemala, Mr. Alfredo Vásquez, for the organization's generous support and close relations with the Central American countries. Mr. Felman expressed his gratitude for this honor.
The final address of the evening was delivered by the ambassador of the Republic of Costa Rica, Mr. Esteban Penrod.

The evening commenced with a buffet of Central American foods and concluded with a buffet of desserts representing the cuisines of the four host countries.
The portal

www.diplomacy.co.il

congratulates the four countries on on the occasion of their national day.
Remarks of the Ambassador of the Republic of El Salvador, Mr. Werner Matias Romero, on the occasion of the 195th anniversary of the independence of Central America:
Dear friends, Queridos amigos, Erev tov, buenas noches, good evening. I'm Werner Matías Romero, Ambassador of El Salvador to Israel. It is an honour for me to address you tonight on behalf of my colleagues (HE José Isaías Barahona, Ambassador of Honduras, HE Alfredo Vásquez, Ambassador of Guatemala, and HE Esteban Penrod, Ambassador of Costa Rica) on the occasion of the 195th anniversary of our independence. First, I want to acknowledge the presence of the Honourable Galit Wahba Shasho, Director of Culture, representing the Minister of Culture and Sports, Miri Regev. Let me also thank KKL-JNF, in particular Hernan Felman, its Vice Chairman here with us, and Ariel Goldgewicht, a fellow Central American, for their generosity in making this celebration possible. Dear members of the Knesset, Israeli government officials, ambassadors and diplomatic representatives, friends of Central America and fellow Central Americans, to all of you, my colleagues and I offer a warm welcome. Let me start by wishing a speedy recovery for Shimon Peres, who is in hospital tonight, a titan of this great democracy, Israel. President Peres, we hope you can return home soon to be with your family.
A nuestros compatriotas centroamericanos: costarricenses, guatemaltecos, hondureños y salvadoreños, en esta ocasión en la que celebramos el centésimo nonagésimo quinto aniversario de la independencia de Centroamérica, permítanme invitarles a que reflexionemos sobre el sueño de la Gran Patria Centroamericana. Y recordemos todos juntos lo que nos une, nuestra historia, nuestra geografía, nuestras costas bañadas por dos océanos, ríos majestuosos, apacibles lagos y soberbios volcanes, pero sobre todo nuestra raza, nuestra gente, nuestro mestizaje. One hundred ninety-five years ago, the original five Central American lands (Costa Rica, El Salvador, Guatemala, Honduras and Nicaragua) declared their independence from Spain and were born as the "Provincias Unidas del Centro de América" (the United Provinces of the Central America).
That federation lasted only 16 years, and those provinces became the countries we are today, four of which have diplomatic representations here in Israel. Yet since that day in 1821, we Central Americans have known that we remain part of the same fatherland -- our narrow, beautiful, at times troubled isthmus. And we know that our prosperity depends on us remaining at peace and strengthening our ties of economic cooperation and integration. We Central Americans have been integrating our economies since the 1960s. Today our main multilateral forum is the Central American Integration System, or SICA in Spanish. Launched in 1991, SICA now includes the sister nations of Panama, Belize and the Dominican Republic. Our eight countries work together to pursue regional political dialogue, meet climate and environmental challenges, and share expertise in improving social programmes, with the goal of helping our people lead healthier and more secure lives.
Perhaps the area in which we have advanced the most is trade. We have negotiated joint trade agreements with all our most important partners, including the United States, the European Union, Mexico, Colombia and Chile, and we are currently engaged in negotiations with South Korea. These agreements guarantee access for our products to those markets and facilitate investment in our countries. At the same time, we continue to deepen economic integration amongst ourselves and are well underway toward completing a Customs Union, so products can move from one country to another without barriers. Central America is a geographically strategic region. We are blessed with rich biodiversity and long coastlines on both the Atlantic and Pacific. With a combined population of more than 50 million, we offer investors a large market. But we also face challenges together. Our region faces serious issues of violence due to gang activity, organized crime and drug trafficking. We are committed to tackling these problems jointly.
That is why we have created the Central American Security Strategy, or ESCA, a comprehensive effort for better sharing of information, strengthening judicial and police institutions, and intervention at the community level to prevent violence. A big part of ESCA's work has also been to apply cooperation from friendly countries that have faced problems similar to ours. We have created a group known as the Friends of ESCA, made up of governments and international financial agencies that are bringing expertise and aid to help us face these unprecedented security challenges. Israel is not part of that group, and those of us here tonight, and my government in particular, would very much like it to be. For that to happen, Israel would have to first become an extra-regional observer to SICA, and we will continue to support that aspiration very strongly, both in our contacts with Israeli authorities and within the Central American group itself.
Israel has been a good friend of Central America over the years, and Central America has been a good friend to Israel since its establishment in 1948, the year all our nations recognized the newly born State of Israel. Moreover, all our countries have thriving Jewish communities that have played important roles in government, the arts and business. In the context of this shared history of cooperation and friendship, we have seen a constant stream of high-level delegations from Central America to Israel in the last 12 months, all with practical agendas for strengthening ties. Last October, President Juan Orlando Hernández of Honduras, a MASHAV alumnus, led an official delegation whose visit concluded with commitments to expand cooperation in agriculture and water management, areas important not only to Honduras but to Central America as a whole. Currently Guatemala is preparing for a visit to Israel in the next few months by President Jimmy Morales, who took office this year and will lead a delegation of key officials. Costa Rica is organizing a visit by its Trade Minister, which will surely advance trade and investment in both directions. As for El Salvador, we are working with Israel on a third round of consultations to review our bilateral agenda, which will include political dialogue, enhanced cooperation and trade and investment possibilities.
Our governments see great opportunities in the "Start-up Nation". And Israelis are increasingly discovering the investment opportunities offered by our countries individually and as a region. We, Central American and Israeli officials, have to work together to develop this potential. In this endeavour, not only the exchange of visits by officials, but the enhancement of our diplomatic presence, ours in Israel and Israel's in Central America, is fundamental. That is why we have been surprised by the withdrawal of Israel's diplomatic presence in our region. Israel this year has closed two embassies, both of them in our region, one in my own country El Salvador and the other the elimination of a roving Israeli ambassador to the Caribbean nations based in New York. As a friend of Israel, it pains my country and me personally to see the Israeli flag coming down anywhere in the world. This is particularly unfortunate in a region that has gained so much from cooperation with Israel in the past and could benefit from Israel's good sense and expertise now more than ever.
Our region has suffered the scourges of war and forced migration. But we have worked hard to create better institutions, more prosperous economies, and democratic systems that allow all interests to have a voice and a stake in society. All of us, whatever our differences, understand that dialogue is the only means to achieve lasting peace and reconciliation. It is for this reason, and informed by our own experiences, that our countries continue to support a negotiated, two-state solution that will bring peace to Israel and Palestine, two nations that deserve no less. We Central Americans understand better than anybody that peace comes through dialogue - - not imposition – and that negotiated solutions take time and good faith. We trust that, despite all the setbacks to the peace process, the Israeli and Palestinian authorities and peoples will not lose sight of this reality. [pause] When we Central Americans get together, as we do tonight, you might hear us talking about football -- in which we have some epic rivalries -- or politics back home. But you may also hear us mentioning a figure from our independence struggle, Francisco Morazán, who fought the Spaniards and then spent his life fighting to keep Central America together as a single country, unsuccessfully. He was a liberal reformer, born in Honduras, died in Costa Rica and buried in El Salvador, and still a controversial figure today. You'll still hear people mention el sueño de Morazán, the dream of Morazán, that is, the dream of a unified Central America. We are still working towards the dream of Morazán, although not exactly in the way he envisioned. By integrating our economies and building cooperation in every field, we are working towards realizing his dream of a united, modern and prosperous Central America. We hope Israel will continue to support and be part of that dream. Thank you, toda raba, muchas gracias.
Photo Silvia Golan
Details

Written by

President's Spokesperson
President Rivlin hosts Rosh Hashanah reception for foreign ambassadors and members of the diplomatic corps serving in Israel
President Reuven & First Lady Nechama Rivlin today (Thursday) held a festive reception at his residence for foreign ambassadors and members of the diplomatic corps serving in Israel, to honor the upcoming festival of Rosh Hashanah, the Jewish New Year. Attending were 90 ambassadors and diplomats representing countries from around the world, including Israel's neighboring countries Egypt and Jordan.
"Thank you for joining us to raise a toast and celebrate the new Jewish year," began the President, and added, "I want to start by saying that Israel is proud of our cooperation with each of your nations; we are proud of the friendships that we are building, between us, and between our peoples. In the past year we have worked hard to build networks, and strengthen our ties and cooperation." He stressed, "We are especially happy with the growing partnerships and friendships with our neighbors in the Middle East and the Mediterranean. I see these opportunities as a way to build a better future for all the people in our region."
The President noted that in the Rosh Hashanah liturgy, "We say that it is decided, 'Who will live and who will die, who by water and who by fire, who will rest and who will wander, who will have calm, and who will be troubled'." He observed that "This last year in our region we have seen many die by fire, and when trying to find safety many have died by water. We have seen many people wander, and many people face troubles. These terrible facts are not the actions of God, they are the evil deeds of man pretending to speak in the name of God," and told the ambassadors and diplomats attending, "to stand up to this terrible threat needs the brave actions of man. This is a duty for all of us."
The President said, "I don't believe we have forgotten our values, but if this were to be true the whole free world would be in danger of sacrificing everything that we sacrificed for: freedom, liberty, and democracy."
He concluded, "This year, on Rosh Hashanah, it will be my prayer that the world will focus on the politics of values on which our society was built. That we will remember, that beneath the politics are people; men, women and children, of all faiths, and all nations. I hope that all their voices will be heard fairly, equal before the law, and equal in society."
Dean of the Diplomatic Corps a.i, Ambassador of Dominican Republic, H.E. Mr. Alexander de la Rosa also addressed the event, and thanked the President and First Lady for their warm welcome and hospitality. He said, "On behalf of the Diplomatic Corps, I wish to the State of Israel, its Government, and all the Jewish people a happy New Year."
He added that he hoped this year, "The negotiations between the Israelis and the Palestinians will be a reality, and the two sides will solve all the differences that exist between them." He added, that the world today faced the challenge of "terrorism, which targets the social democracy, and human rights," and added that there should be "condemnation of terrorism in all its manifestations". He concluded, "I wish that the progress and flourishing of the Israeli economy will continue to rise," and that, "Israel will continue its high standard in all the medical, scientific, and technological cooperation projects, providing knowledge and solutions for the world."
Photo credit: Mark Neiman (GPO)
Details

Written by

Jonathan Danilowitz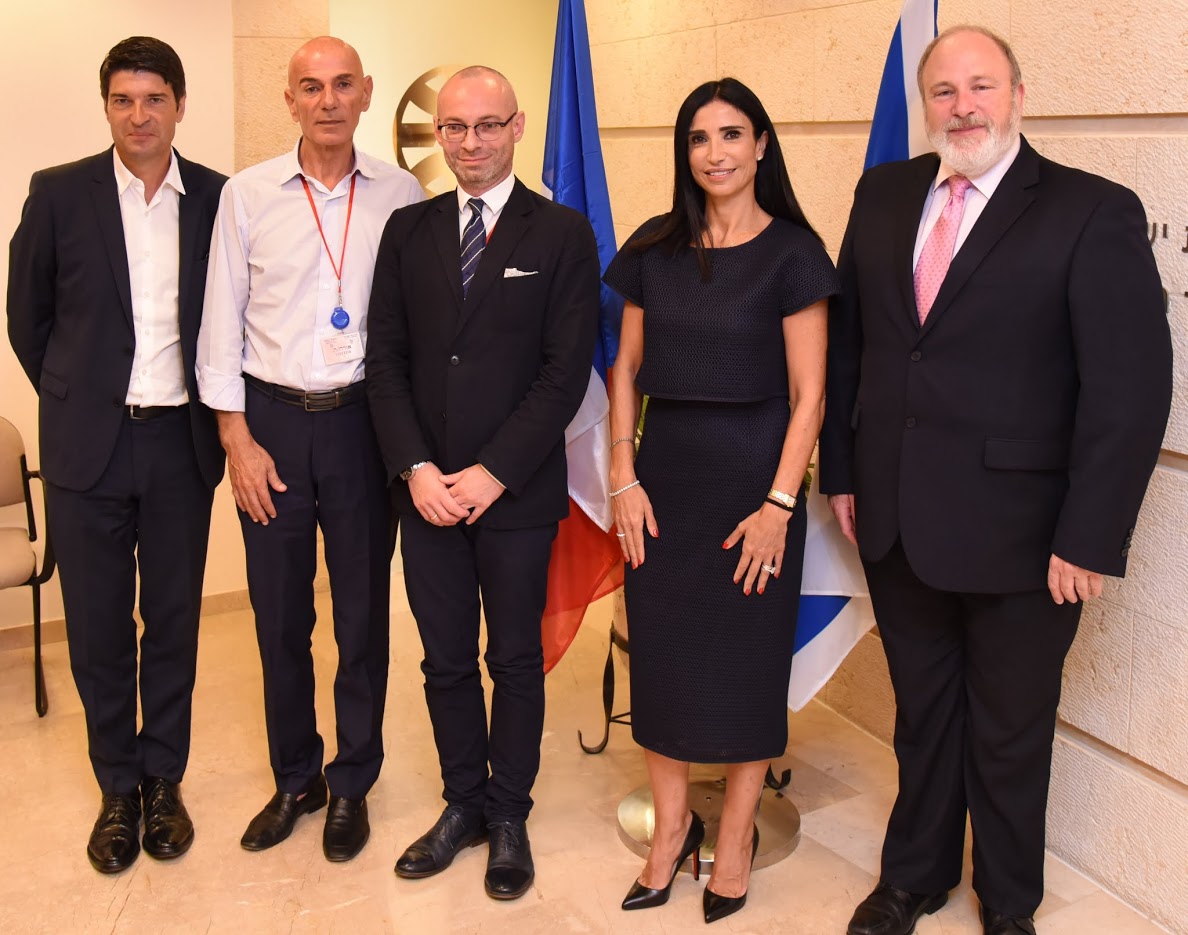 Nathalie Mimoun, new Honorary French Consul
The words sound better in French than in English: "Chavalier de L'Ordre National du Mérite". (Freely translated into English: Knight of the National Order of Merit).

This highly-regarded honor from the French Government (it was established by General De Gaulle in 1963) was recently bestowed on Ms. Nathalie Mimoun. At a sparkling reception last month at the residence of the Ambassador of France to Israel, his Excellency Patrick Maisonnave, Ms. Mimoun was feted for her social welfare and consular work in Israel and her fortitude in representing France as Honorary Consul for Netanya and the Sharon Area.
In a separate ceremony in Jerusalem, Ms. Mimoun was also awarded the official title of Honorary Consul of the French Republic in Netanya. This Mediterranean resort city has the highest concentration of French people in Israel – more that 10,000 – making it Israel's most "French" city.
To be perfectly accurate, Ms. Mimoun should be addressed as Dr. Mimoun. She arrived in Israel from Paris (where she was born and raised) as a young medical student, some 30 years ago. Practicing medicine has been swept away by her career in politics, social welfare activism and her family life with her husband and four children. The Order of Merit award is in recognition of her boundless and devoted efforts to help new immigrants to Israel to adapt to their new country but also for her work for the welfare of Holocaust survivors. Nathalie: "I often tell new immigrants: 'Don't be fixated on your past life, studies or career. You've come to a new country, a new culture, a new world. You can start a new life as well' ".
In an address to the gathering at the Ambassadorial ceremony, Nathalie spoke of her experiences as an immigrant to a new country; she recalled her culture shock, but also how Israelis "opened their hearts" to her and helped her to settle in. She spoke of her own wish now, as a seasoned Israeli, to help others, in particular new immigrants from France, to feel welcome in the country that is now so close to her heart. "When political, cultural or religious conflicts rear their ugly head we must always remember how such conflicts have always been resolved throughout history: by listening, understanding and learning from the 'other'. A lesson I never forget."
Her route from doctor to honorary consul is long and interesting, and includes her present career, in partnership with her husband, in the diamond and jewelry industry. "I have never abandoned my French roots and culture", she says, "but I have put down roots here in my adopted land and want to help others do the same with ease and equanimity."
One would assume that her career, family, consular tasks and social welfare efforts leave little time for other issues. Not so for Nathalie. She plays golf, tennis and chess and is a gourmet chef. (She's French, so gastronomy is in her genes). On life in Israel: "I love the friendship, the mix of cultures, the action … nobody agrees with others, we're always arguing ... the day and night life in non-stop Tel Aviv ... my freedom to express myself ... I feel secure".
There is an old saying: "Blowing out someone else's candle doesn't make yours shine any brighter". In Nathalie's case, the opposite is also true: Making someone else's candle glow, makes your own shine even brighter. The light she casts on those whose life she helps brighten certainly adds shine to the world about her.
Thanks Nathalie, Chavalier de L'Ordre National du Mérite and Honorary Consul of France
Photo 1 by MFA Protocol Appartment
Photo 2 Silvia G Golan
Details

Written by

Buzzy Gordon
Ukraine Celebrates 25 Years of Independence
Details

Written by

Silvia G Golan
Switzerland Celebrates 725 Years of the Swiss Confederation
On August 2, the Embassy of Switzerland in Israel marked the occasion of its national day, August 1, commemorating the formation of the Swiss Confederation in 1291. The reception honoring the 725th Anniversary of the Swiss Confederation was also the occasion of the official farewell of the Ambassador of Switzerland to Israel, Dr. Andreas Baum, as he leaves for his next post in India, following four years as envoy to Israel.
The reception, held in the lush green garden of the residence of the Swiss ambassador in Ramat Gan, was attended by ambassadors and
representatives o

f many diplomatic missions, officials of the government of Israel,
Swiss nationals residing in Israel, leaders of the business community, and a cross-section of
Israeli society.
Among the guests were
Ambassador
Meron
Reuben - FM Protocol Chief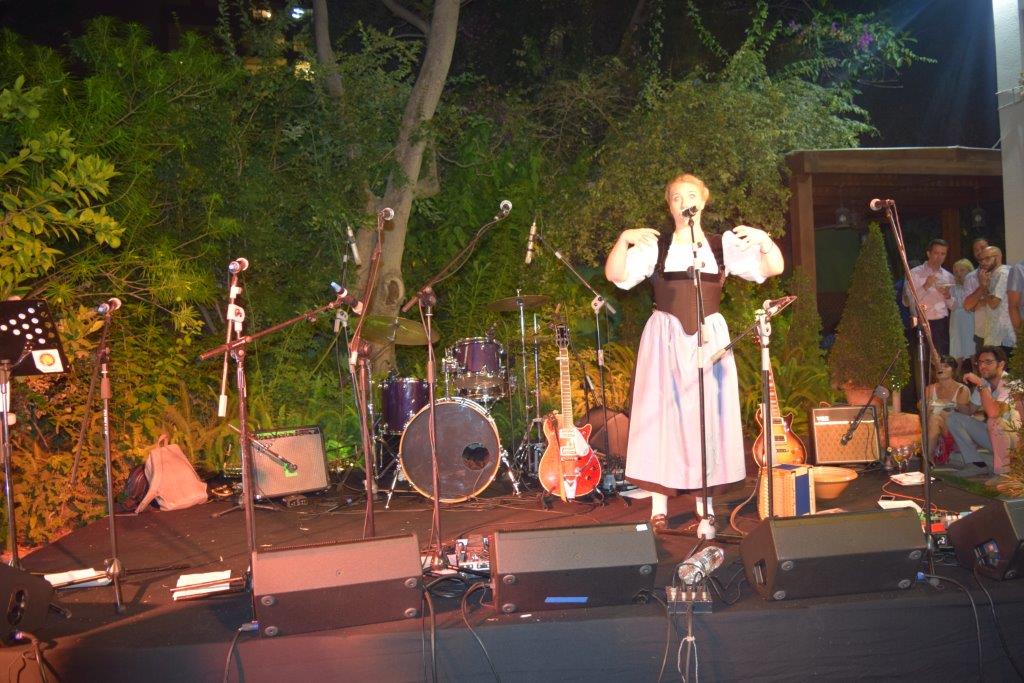 Guests were treated to a variety of traditional Swiss foods, especially raclette, as well as Swiss wines. The musical program of the evening included a yodeling performance by Miss Helvetia, Barbara Klossner and entretainment bu the local band Shmemel
The ambassador himself announced the playing of the national anthems of Switzerland and Israel.
Following is Ambassador Baum's address
Honoured guests, dear friends and colleagues,
Thank you for joining us to celebrate Switzerland's 725th anniversary. We will now hear the national anthem of our host country Israel, interpreted by members of the band Shmemel, followed by the Swiss Psalm, sung by Barbara Klossner.
This is my fourth and last National Day in Israel. Our motto for tonight was: keep some well-established things the same, such as the combination of intense summer heat with warm raclette cheese, while bringing in a few new elements. We are partnering with Swiss International Airlines, a unique bridge builder between Switzerland and Israel. We are also showcasing three charitable projects, Kuchinate, CEC Collection and UNITAF, which the embassy has been supporting. Their collections and books are being sold inside. We are also innovating musically, with the participation of Barbara Klossner, a prominent ambassador of Swiss traditional music, who flew in a few hours ago especially to join us, and the Israeli funk rock band Shmemel, bringing in their own brand of energy. This is planned as an experiment in creative fusion and I hope you'll enjoy it.
What can an ambassador achieve in four years? Our work is so difficult to quantify. Together with our Israeli partners, we have been pushing into new fields, projects and collaborations, such as promoting the Swiss dual vocational training system, which is currently being piloted in several Israeli enterprises, or celebrating, around this country, the avant-garde art movement Dada, born 100 years ago in Zurich. We have intensified and diversified our bilateral political dialogue, to reach into the multilateral, strategic and development aid areas. For all this I wish to thank my wonderful team as well as our many partners, be they Israeli officials, academics, scientists or civil society activists, the members of our vibrant Swiss community, the Chambers of commerce, the Israel-Switzerland Friendship Association. With this mix, everything was possible and even more is to come. I am of course delighted that in these four years, overall trade between the two countries grew by 15 % and that a high birth rate enriched the Swisscommunity in Israel by over 20%, to almost reach the milestone of 20'000 members. But, you'll agree with me, I can claim no responsibility.
I've been cleaning up my office these last few days. How easy it becomes to throw away paper, when you wait long enough! This in no way diminishes the energy and passion that flowed into those papers, always trying to better understand the events of what have been four turbulent years: we witnessed two wars around Gaza, two early elections, the failure of peace efforts, the current wave of violence. While I have learned a lot, I must say that I am leaving with many more interrogations than certainties. I remain challenged by the contradictions posed by Israel, which is at the same time the vibrant startup nation, with which we cooperate so closely, and the author of a persistent, internationally unrecognized occupation. While I trust that you see clearer perspectives, I keep searching for the answer to a basic question found in a Haaretz article: what's the plan?
Israel unquestioningly belongs to the Western, democratic family of nations. Because we are family, we worry, we criticize, and we even may sometimes – as some will say - meddle in its internal affairs. We thus did not understand the necessity for a so-called NGO transparency bill, we consistently oppose settlement expansion and ask for better protection of vulnerable populations in Area C. On the Israeli-Palestinian conflict, we remain strong supporters of the only rational solution, the two States solution, as admirably sketched out by my friends of the Geneva Initiative. When I arrived, I was sure that this rational solution is more or less pre-ordained, that the parties, with support from the international community, will just have to find the - difficult - way to get there. I now rather more modestly believe that the outcome is open. Who wants what, how much, and with what means - this will determine the future. Israel, despite its many strategic challenges, chose to construct and realize a democratic, prosperous nation. This country, in spite of its fears and legitimate security concerns, can equally choose to concretely invest in peace. It is both a risk and a conscious choice. The environment and the present are a given, but the future is in your hands.
Around the world, these violent, uncomfortable times have robbed us of many certainties. We are being painfully reminded that history is not linear. Peace and prosperity through ever closer cooperation are being questioned even in Europe. The specter of new barriers, a revival of nationalism and even racism must alert us, in Europe of all places; yes, our security, our way of life are being challenged, but fear, anger, distrust and hate must not be allowed to dictate our future. As citizens, as members of civil society, we must fight, together, for our ideals and values, for a future of tolerance, of hope and opportunity. Fight democratically and peacefully, in politics, in schools, at the ballot box, if necessary on the streets. I trust in the well informed, enlightened European, Swiss and Israeli citizens.
How do you like Israel? How does it compare with your other postings? How often have I heard these questions! They are simple, honest, legitimate queries, but also tricky questions - because of the highly politicized, polarized Israeli environment, because of ongoing conflicts in the region, because of the weight of history. For a diplomat, this is a posting rich in banana peels, where the way from the high chair to the low chair can be very short. So we tend to avoid straightforward answers, fleeing into empty phrases such as "never a dull moment". And I shall not forget the words of an experienced colleague, who said: in Israel, never give advice, never compare. But today, almost at the last minute, I feel I owe you an answer, by telling you all the things I will miss here. I will miss the people, their creativity, warmth and passion, the stimulating, high level conversations, the challenging work environment. I will miss my trusted embassy colleagues and residence staff. I will miss the culture, the beautiful classical concerts and the original works of art, of which I can take only a very small sample with me. I will miss the balmy climate, the seashore, the road trips to the North and South, the incomparable food and wine. I will miss my garden and my rapidly growing family of wild cats. In short, I am leaving with much nostalgia.
In a few days, my successor Ambassador Jean-Daniel Ruch will take up his mission. I know he can count on your trust and warm welcome. The Indian capital New Delhi will soon be my new temporary home. I look forward to this exciting, challenging, high-energy posting. I'm following in the footsteps and the quests of so many Israelis, though they're usually a bit younger than me when they go there. One day, should I ever find serenity and wisdom, I may come back to the shores of the Mediterranean to watch the olive trees grow. Good bye, thank you and let's keep in touch.
The Diplomacy.co.il team wishes the ambassador the best of luck at his new posting.