Diplomatic Events
Details

Written by

Jonathan Danilowitz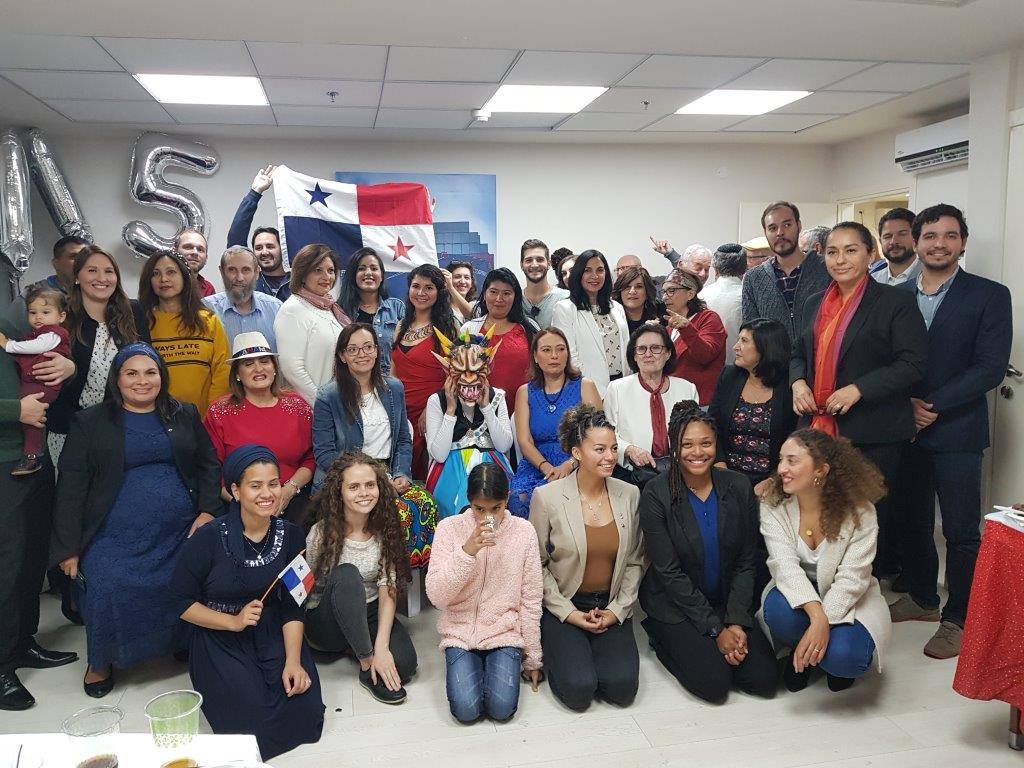 On a drizzly November evening, the Panamanian Ambassador to Israel, H.E. Adis Urieta Vega and the embassy personal brought warmth and cheer at a meeting of friends and colleagues at the embassy offices.
The occasion was just that – a welcome meeting of Panamanian expats, Central American diplomats, local friends and business people connected to Panama. The theme was a celebration of a month of Panamanian national holidays, plus tourism, culture, business – and friendship.
The atmosphere was relaxed and low key; guests could just have a good time with the pleasant background music and the delightful buffet meal. (Panamanian-Israeli chef Moises Ben Zadon prepared typical Panamanian dishes for the guests.)
The Ambassador addressed the gathering. She spoke briefly of the tiny country's history, its struggle and eventual release from the colonial masters, the battles against poverty and illiteracy and its eventual successes.
She added that the economy keeps improving and beats the annual economic growth of all other Central American states. "Lonely Planet" (a tour guide) has indicated that Panama is one of the world's most attractive tourist destinations.
Tiny Panama also has the world's largest commercial shipping fleet – the Panamanian flag can be seen on ships worldwide. The 1977 Torrijos–Carter Treaties led to the transfer of the famous canal from the United States to Panama on December 31, 1999.
Her Excellency concluded by thanking all the guests for joining in at this informal Panamanian event and reminded them that she and staff are always open to ideas and projects that are of mutual benefit.
The director and staff at www.diplomacy.co.il extend their best wishes to the ambassador for many, many years of friendly Panama-Israel diplomacy.
Photo Silvia Golan
Details

Written by

Silvia Golan & Steven Aiello
On Monday evening, the Austrian national day celebration was hosted at the Ambassador's Residence in Herzliya. H.E. Ambassador Martin Weiss and his wife Susan greeted guests warmly as they entered. Guests enjoyed hors d'oeuvres along with live jazz played by students from the Ironi Alef school for arts before and after the formal ceremony marking the celebration.
As a prominent member of the European Union, Austria incorporated the EU into the celebration as well. Austria has been holding the presidency of the Council of the European Union for the second half of 2018, and posters explained about Austria's leadership in that role. The formal ceremony opened with the national anthems of Austria, Israel and the European Union (Beethoven's "Ode to Joy), performed by the Brass Quintet of the Buchmann-Mehta School of Music of Tel Aviv.
Ambassador Weiss welcomed the guests and thanked them for attending. He highlighted the long connection between Austria and Israel, which have maintained diplomatic relations for nearly 70 years, and expressed his hope that this friendship would continue.
Member of Knesset Dr. Michael Oren, Deputy Minister for Public Diplomacy, spoke on behalf of Israel. Dr. Oren highlighted Austria's efforts to combat anti-Semitism in Europe through its role as President of the European Union. He also mentioned the support of the government of Austria for its Jewish community, which has dwindled to only a few thousand members.
Looking to the future, the deputy minister listed areas for increased cooperation: trade, innovation, science, and culture. In particular, he stressed the advantages of bringing youth from Austria and Israel together to promote people to people diplomacy. In closing, Dr. Oren offered his a toast for success to Austria on behalf of the people and government of Israel.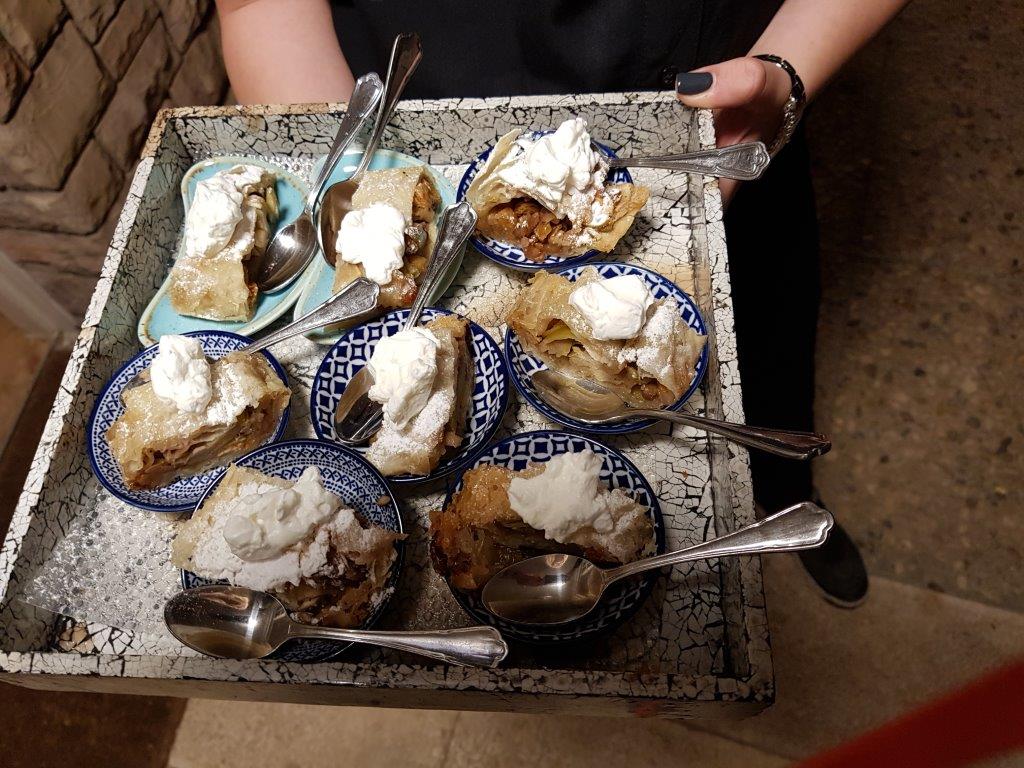 Following the ceremony, guests enjoyed a gala dinner, with Austrian sausages and schnitzel, along with Stiegl beer in a variety of flavors as the choice beverage. For dessert, there was traditional strudel.
Among the distinguished guests in attendance were Ambassador Meron Reuven, Chief of Protocol of the Israeli Ministry of Foreign Affairs; Tourism Ministry Director-General Amir Halevi; Ambassador Yitzhak Eldan, head of the Israeli Center for Young Leaders and the Israel School for Young Ambassadors; Gad Proper, Chairman of the Israel-EU Chamber of Commerce; Dan Catarivas, Director General – Foreign Trade and International Relations at the Manufacturers' Association of Israel and head of International Relations at the Federation of Israeli Economic Organizations (FIEO); Superintendent Moti Meiry, representative of the Israel Police; Ze'ev Lavie, Director of the International Relations Division of the Federation of Israeli Chambers of Commerce, along with numerous ambassadors and other diplomats and representatives of the Austrian community.
Diplomacy.co.il offers congratulations to the Austrian Embassy on its National Day, and best wishes for success and strong bilateral relations between the nations.
Photos by Silvia G. Golan
Steven Aiello
Founder--DebateforPeace
https://debateforpeace.wordpress.com/about/
Details

Written by

Chris Mitchell / CBN News
JERUSALEM, Israel – Earlier this year, the Latin American country of Guatemala became the second nation after the United States to move its embassy from Tel Aviv to Jerusalem. CBN News was on hand to see Guatemala's new ambassador present his credentials to Israel's president.
The ceremony began with pomp and circumstance and Guatemala's national anthem.
Then Ambassador Mario Bucaro presented his diplomatic credentials to Israeli President Reuven Rivlin.
Rivlin noted the long friendship between Guatemala and Israel.
"As we all know, Guatemala is one of the oldest friends of Israel. I still remember when I was 10 years old that in 1947, Guatemala initiated 13 Latin America states to recognize Israel," Reuven recalled. "Now as you have said, we have the embassy of Guatemala here in Jerusalem."
"We're friends forever, I would say. Since the founding of the State of Israel, Guatemala has been a friend. But you also have been a friend always," Bucaro said. "My mission and the orders that I have received from the president is that we can strengthen even more our relationship."
The ceremony ended when President Rivlin invited Ambassador Bucaro to sign the president's guest book.
Later, the new ambassador and his wife were guests of honor at a reception hosted by Mike Evans and the Friends of Zion Museum. Israeli Deputy Foreign Minister Tzipi Hotovely came to greet Ambassador Bucaro along with ambassadors from most of Central America.
"I feel blessed with a great responsibility, but I'm very happy. It's an amazing time in Israel," Bucaro said. "It's such a privilege because since I was a child, my mom used to sing me a song that one day I would be in Jerusalem and today I am here and I am able to honor that."
"We have the vast majority of the ambassadors from Central America here," Evans said. "And what are we talking about? We're talking about God blessing their countries and blessing them. It's an amazing thing. It's part of the prophecy."
Before his posting as Guatemala's ambassador, Bucaro served as CBN's regional director for Latin America.
"I just want to thank all the audience of CBN and especially the donors of CBN because for almost 10 years I have been part of this family. I continue to be a part of this family of CBN. Thanks, Gordon Robertson and Pat Robertson for their vision and their example, and I'm here also to be able to tell the world the love that I have for Christ, based on their example too and the best is yet to come," he said.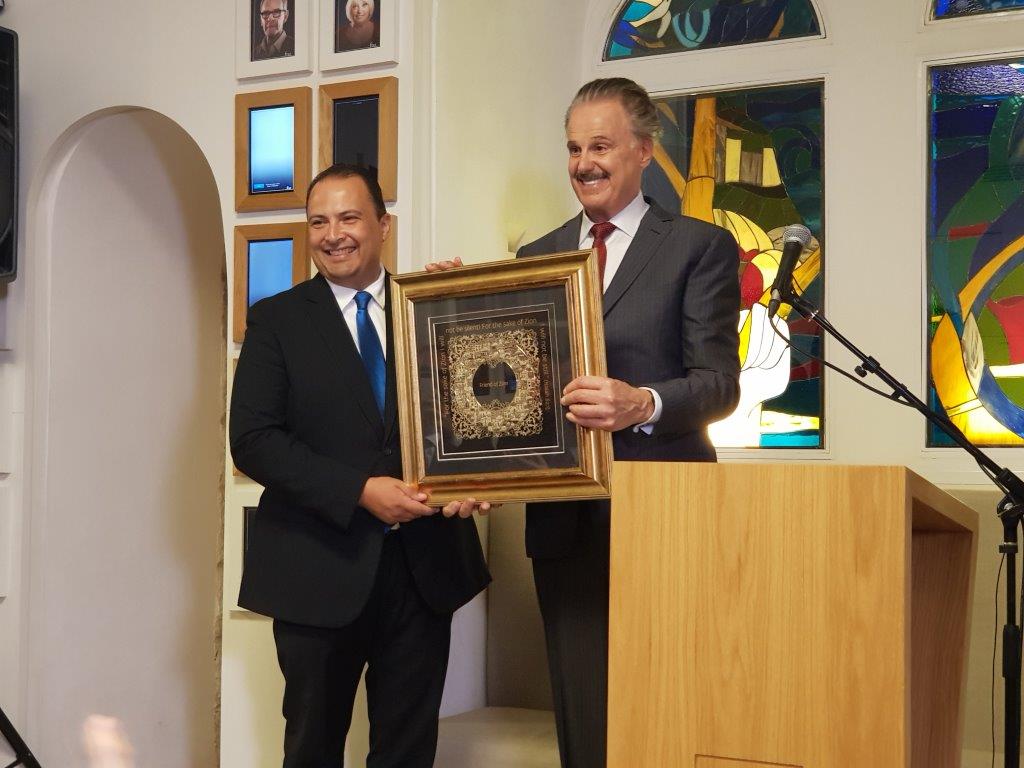 Dr. Mike Evans Presents Guatemalan Ambassador Mario Bucaro with 'Friend of Zion' award, Photo, Silvia Golan
"He's not only an ambassador, but he's also a believer, and a strong, solid believer, an intercessor," Evans responded. "So he's our brother in the Lord and evangelicals are the ones who made it happen in Guatemala as they did in America."
And what did Bucaro write in President Rivlin's guestbook?
"Hineni. Here I am. I'm here in Jerusalem. I'm here to serve and to serve Guatemala and to serve Israel."
To read the full article:
https://www1.cbn.com/cbnnews/israel/2018/october/new-guatemalan-ambassador-bucaro-celebrates-jerusalem-move-here-to-serve
Photos by Silvia Golan
Details

Written by

Silvia Golan & Steven Aiello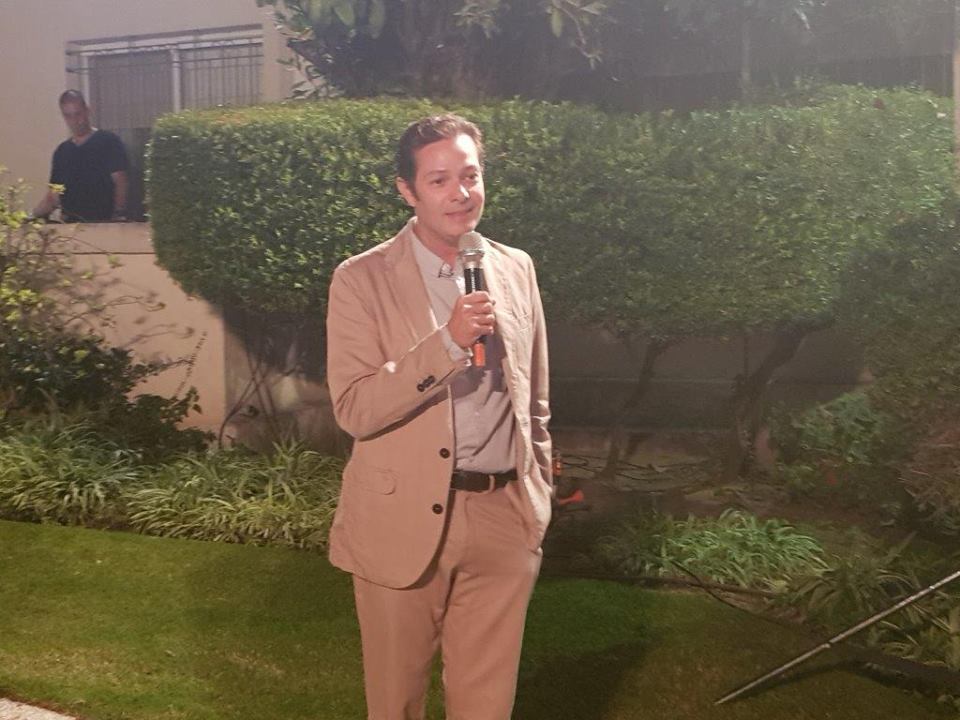 On Wednesday, October 24th, a unique art exhibition titled "Artist in Residence" was shown at the British Ambassador's Residence in Ramat Gan. Mr. Aldo Henriquez, the communications consultant of the British Embassy and President of the Diplomatic Spouses Club in Israel, opened his artwork to a select audience in an intimate and engaging evening.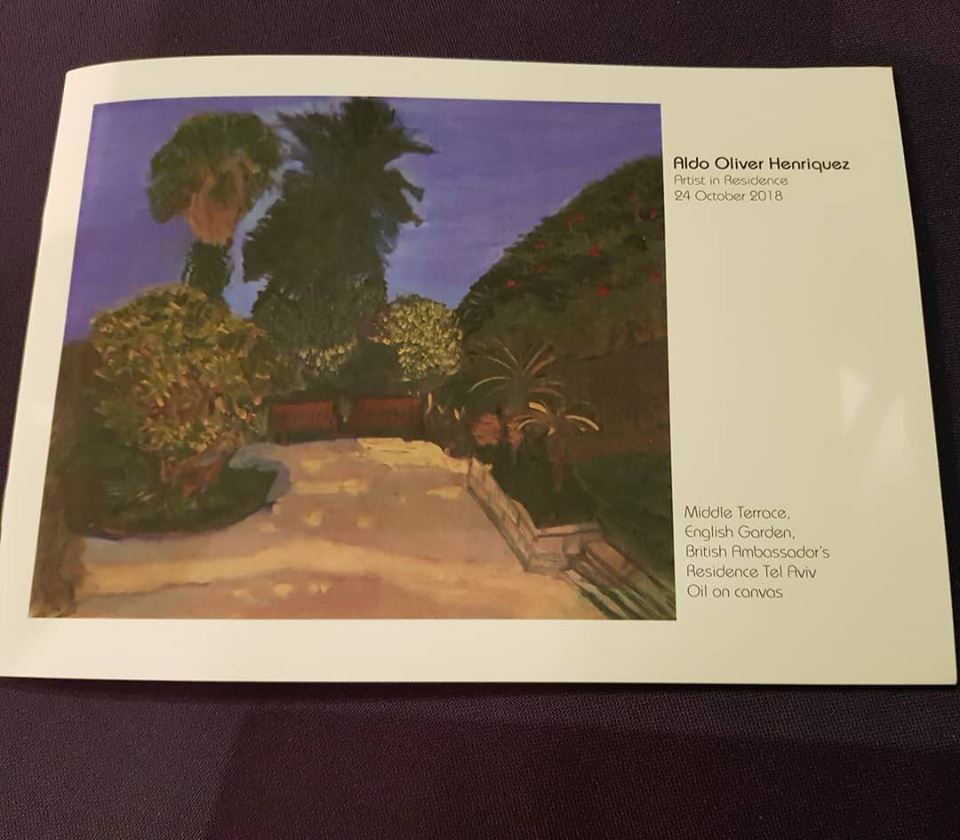 Mr. Henriquez explained that the exhibition was a visual representation of his experiences in Israel, from the Ambassador's residence itself to places he often frequents. The paintings included portraits of people in his life, and places, including many pastoral nature scenes.
Mr. Henriquez was seemingly born for the diplomatic lifestyle. He was born in La Ceiba on the Caribbean Coast of Honduras and grew up in New Orleans. He moved from New York to London with his spouse, David Quarrey, and then they moved to Israel when Quarrey assumed the post of Ambassador to Israel.
It was in London that Henriquez began really devoting himself to his artistic side, training for two years at the London Fine Arts Studios on Lavender Hill, London. He noted that he began painting at the age of 40, the same as Winston Churchill. As a non-native Londoner, he believes that art and literature helped him connect with his new environment, and gave him a deeper understanding of British society. Upon arriving in Israel he continued with his passion, spending two years at the art studio of Yossi Mark at the Petach Tikva Museum of Art.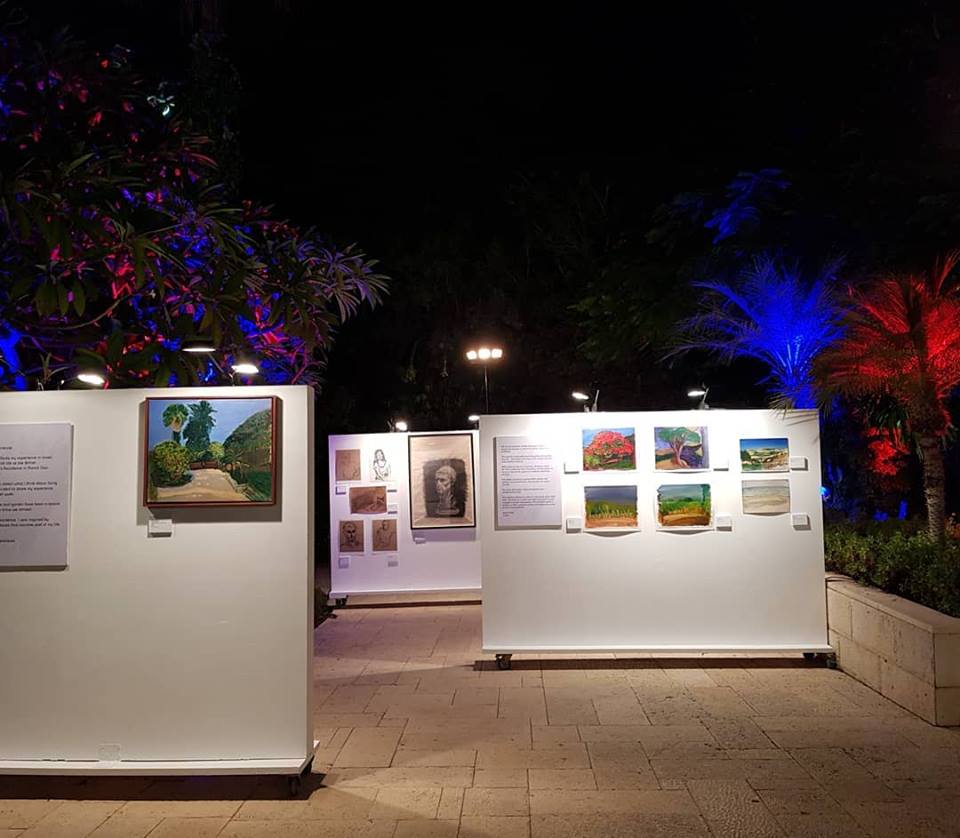 Henriquez told Diplomacy that:
"With "Artist in Residence" I wanted to share part of my experience in Israel including aspects of life at the British Ambassador's Residence, which is timeless, a home and a stage for public events; how I got to know about the country through some of the people I connected with, the colors of the land.
Having a solo art exhibition was a dream come true. As an artist, I always visualized having an art show but it was actually Dana Bernstein from the British Embassy who first suggested out loud that I should have an art show. It instantly made sense since people often ask what my experience in Israel is like. I decided to show through my art, part of my journey of exploring and making lasting connections."
In addition to Henriquez's own work, the exhibition included that of others, such as Mrs. Nora Mihaylova, the wife of the ambassador of Bulgaria to Israel. After this auspicious start, Henriquez is already planning another exhibition for January, which will showcase a different style.
Diplomacy congratulates Mr. Henriquez and all those who were involved in such a wonderful endeavor.
Photos by Silvia Golan
Details

Written by

President's Spokesperson's Office
President Reuven (Ruvi) Rivlin this morning, 25 October / 16 Cheshvan, received diplomatic credentials from the new Ambassadors of Cameroon, Guatemala, Germany, Hungary, and Japan to the State of Israel at a ceremony at the President's Residence in Jerusalem. Each ceremony began with the raising of the flag, inspecting an IDF guard of honor and the playing of the national anthems of the ambassador's country and of the State of Israel by the Israel Police Band. The new ambassador presented their credentials to the president and signed the guest book. Later in the morning, the president met the President of the Bundestag, Wolfgang Schäuble, who is visiting Israel.
First to present his letter of credence was HE Ambassador Jean-Pierre Biyiti Bi Essam of Cameroon. President Rivlin wished him all success in his post and said, "the relations between Israel and Cameroon are strong and important. Israel will continue to offer humanitarian aid to Cameroon, particularly in the fields of agriculture and medicine – building capacity, training, and instruction."
The Cameroonian ambassador thanked the president and said, "I am delighted to be appointed Cameroon's ambassador to Israel. The cooperation between our countries in the field of agriculture is very important and I hope we are able to deepen it. I well remember my first visit here in 2002 and am happy to return here as ambassador."
Following this, HE Ambassador Mario Adolfo Bucaro Flores of Guatemala presented his credentials to the president. "Guatemala is one of Israel's oldest friends," said President Rivlin, recalling that Guatemala was the second country in the world to recognize Israel's independence. "Here in Jerusalem, we have a Guatemala Street and a Guatemala School – and now the Guatemalan Embassy. The cooperation between our two countries in agriculture, water and medicine is flourishing and is important to both of us."
The Ambassador of Guatemala said with emotion that he had come from his country's embassy in Jerusalem. "Our countries have been friends forever, and you expressed the depth of that friendship when you came to our aid after the eruption of the volcano this year. The first three words I have learned in Hebrew are 'tachles' (down-to-earth), 'pituach' (development) and 'shalom' (peace). Let these three words be with us during our time here."
Following this, HE Ambassador Dr. Susanne Wasum-Rainer of Germany presented her credentials. The president welcomed her back to Israel and said, "Our two countries share a painful past but it is the basis for our strong and important relations today. As I said to Chancellor Merkel last week, our people-to-people relations are just as important as our government-to-government links. Our countries share values and a hope for the future based on our shared belief in peace and democracy."
The German ambassador thanked the president for his warm welcome and said, "this is an emotional moment for me. I feel like I am coming home. It is a great privilege to serve both our peoples in this way. The relations between our countries are strong and deep but we can always find new ways to enrich our relations."
Next to present his letter of credence was HE Ambassador Levente Benko of Hungary. "Hungary was home to the Jews and today has the largest Jewish community in eastern and central Europe, as well as a thousand Israeli students studying there. The bilateral relationship is strong and I want to thank the Hungarian government for its support of Israel in the European and international arena. As we are witness to growing anti-Semitism in Europe, we must be clear that there is zero tolerance for anti-Semitism. We will continue to work together with you to ensure that the Jewish community in Hungary is safe and secure."
The Hungarian ambassador thanked the president and said, "Relations between our countries are at a historical high. Hungary and Israel are like-minded when it comes to the big issues we face – national identity, sovereignty, and security. Hungary stands up for Israel in the European and international arena because we see Israel as an important strategic partner. Be assured, Mr. President, that Hungary will not tolerate anti-Semitism."
Finally, HE Ambassador of Japan Koichi Aiboshi, presented his letter of credence to President Rivlin. "Welcome to Israel, Mr. Ambassador," said the president. "This is an exciting time for our two countries, and the sun is indeed rising over Israeli-Japanese relations. We share a deep commitment to the same values – democracy, freedom and the pursuit of peace. I want to thank Japan for its investment in the Japan Agro-Industrial Park in Jericho. It is proof of the importance of doing what can be done, rather than talking about what cannot be done. I was happy to welcome Prime Minister Abe earlier in the year. He brought a large delegation of business leaders and we were delighted to see the cooperation deepen and widen over a large number of sectors."
The Ambassador of Japan conveyed the good wishes of Emperor Akihito, and said, "The Japanese people thanks to the State of Israel for the medical aid after last year's earthquake. This exemplifies the deep friendship between the countries. I am proud that over the last ten years Japan has worked with partners in Israel, the Palestinian Authority and Jordan to establish the Japan Agro-Industrial Park. We will continue to work to develop the excellent relations we have in the field of innovation and technology."
Photos Mark Newman