Diplomatic Events
Details

Written by

Steven Aiello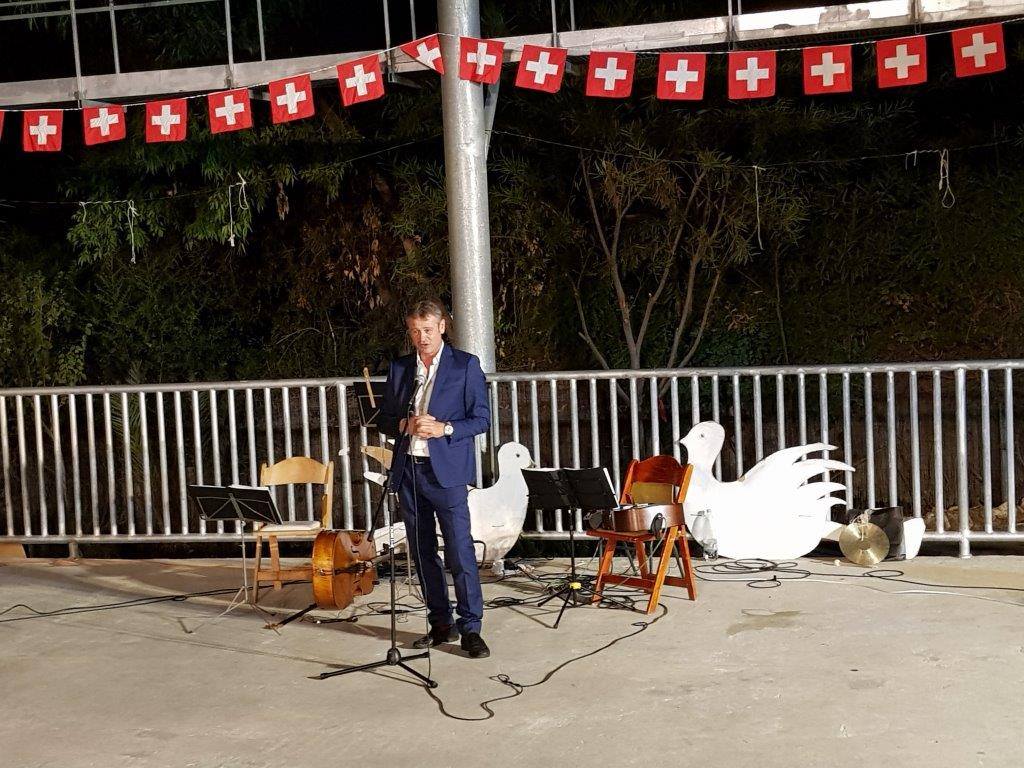 Pluralism and multilingualism took center stage on Wednesday night, at the Swiss national day celebration in Israel. This year the Embassy of Switzerland chose to mark the occasion at Wahat al-Salaam--Neve Shalom, a Jewish-Arab village that lives up to its name: "Oasis of Peace."
Swiss children joined Jewish and Palestinian children in carrying traditional Swiss lamps, as a band performed music together with child musicians from the village.
Minister of Construction and Housing Yoav Galant, opened the evening on behalf of the Israeli government. Galant noted the long-standing historical ties between Jewish Zionist leaders and Switzerland, as well as the current partnerships between Israel and Switzerland. Minister Galant thanked Swiss citizens living and working in Israel for their work in connecting the two countries. In closing, the minister congratulated the people of Switzerland and expressed support for the Swiss-Israel relationship to continue to grow.
May Shbeta, a second-generation resident of Wahat al-Salaam, and the child of Palestinian and Swiss Jewish parents spoke next. Greeting the guests in over half a dozen languages, she epitomized the multiculturalism and multilingualism stressed in both Switzerland and in the village. In addition to being a Swiss citizen, Shbeta is also involved in Israeli-Palestinian initiatives supported by the Embassy of Switzerland. Shbeta explained that the diversity and coexistence in her village reminded her of Switzerland. Shbeta finished her remarks by observing that she couldn't see herself living anywhere else, but that she hoped that in the future there would be many more Jewish-Arab communities because of genuine friendships.
Sameh Saleimah, a feminist activist, and leader from Wahat al-Salaam, also spoke. Speaking on behalf of the community and its leadership, she extended a warm welcome to the Embassy of Switzerland and its guests. Saleimah was chosen as one of the 10 most influential social activists in Israel and had spoken earlier in the week at the "world's largest Arabic lesson" held in Tel Aviv when thousands of Jews and Arabs gathered in a show of solidarity and support for coexistence.
Saleimah told the guests that they were actually sitting in the playground of the first binational bilingual school in the world, with thousands of students now having come through the system. Explaining some of the challenges with such an environment, Saleimah referred to the national holidays and memorial days as the "sensitive" days, as residents and their children struggle to raise a balance between the vastly different sentiments of Jews and Palestinians. These struggles led to success, as Saleimah explained that they created their own curriculum and that today there were at least seven Jewish-Arab schools around Israel. She noted that their alumni were active in virtually every Israeli-Palestinian coexistence initiative.
Ambassador Jean-Daniel Ruch thanked the hosts and expressing his support for pluralism, and the importance of multilingualism. He noted that there is still a very strong Swiss-Israel connection, and that specifically Swiss donors are among the most active supporters of coexistence initiatives in Israel. Ambassador Ruch mentioned Peter Dreyfus, former President of the Swiss Friends of Neve Shalom association, who passed away earlier this year. The ambassador noted that although Switzerland is a pluralistic, multilingual country, often Swiss people remain segregated by native tongue, and that in that sense there was much to be emulated from Neve Shalom-Wahat al-Salaam and Israeli coexistence initiatives. Ambassador Ruch concluded by observing that living together in diverse societies requires respect, tolerance, and compromise and that these should be guiding principles whether in Israel or in Switzerland.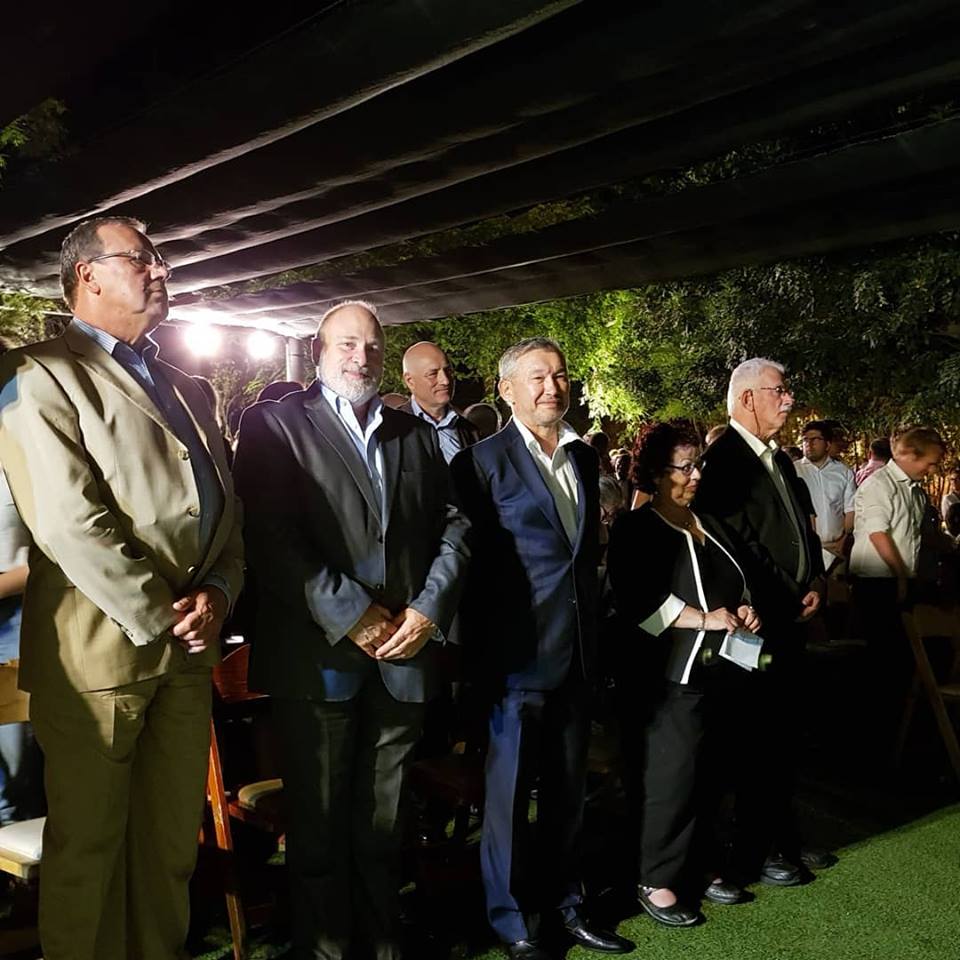 After the performance of the national anthems, the guests enjoyed a catered buffet, as well as imported Swiss cheeses and fine wines. A binational art exhibit at the Wahat al-Salaam art gallery was also open, with the curator providing explanations about the exhibits. The guests at the evening included many diplomats, civil society leaders, and peace activists, including Doubi Schwartz, regional program officer for the Alliance for Middle East Peace (ALL-MEP);Ambassador Meron Reuben, chief of state protocol in the Israeli Ministry of Foreign Affairs; Nitza Raz-Silbiger - Director of the Israel Protocol Department (and several other Ministers and government officials); Dan Catarivas, Director General – Foreign Trade and International Relations at the Manufacturers' Association of Israel head of International Relations at the Federation of Israeli Economic Organizations (FIEO); Uri Ben Assa and Ahmad Helou from Combatants for Peace; and Nadav Tamir, senior advisor at the Peres Center for Peace and Innovation.
Diplomacy.co.il congratulates the Embassy of Switzerland on its national day.
Steven Aiello
Founder--DebateforPeace
https://debateforpeace.wordpress.com/about/
Photos by Silvia G.Golan
Details

Written by

Steven Aiello
On Thursday evening July 26, a farewell reception was held to honor the Ambassador of Japan to Israel, H.E. Koji Tomita and his wife Mrs. Noriko Tomita, who are returning to Tokyo. Hosted at the Ambassador's Residence, the affair offered the opportunity for friends and colleagues to celebrate the Japanese-Israel relationship and Ambassador Tomita's role in promoting those ties.
Ambassador Tomita opened the evening on a lighter note, reassuring guests that although he was leaving, his well-appreciated chef would be staying on. He also stressed that he was leaving the embassy in qualified hands, with the new ambassador set to arrive shortly. Ambassador Tomita stressed that the occasion was a bittersweet one for him, as he would be moving on to a new position in Japan, but would miss his friends in Israel.
Ambassador Tomita has been in the Japanese foreign service for almost 40 years. Prior to being stationed in Israel, he headed the North American Affair Bureau and served as Deputy Chief of Mission at the Embassy of Japan in Washington DC.
Following Ambassador Tomita's remarks, guests were invited to enjoy dinner, with traditional foods such as Shimeji mushrooms, cucumber and seaweed salad, tempura, yakitori, tomatoes in yuzu miso, and of course sushi and other fresh fish.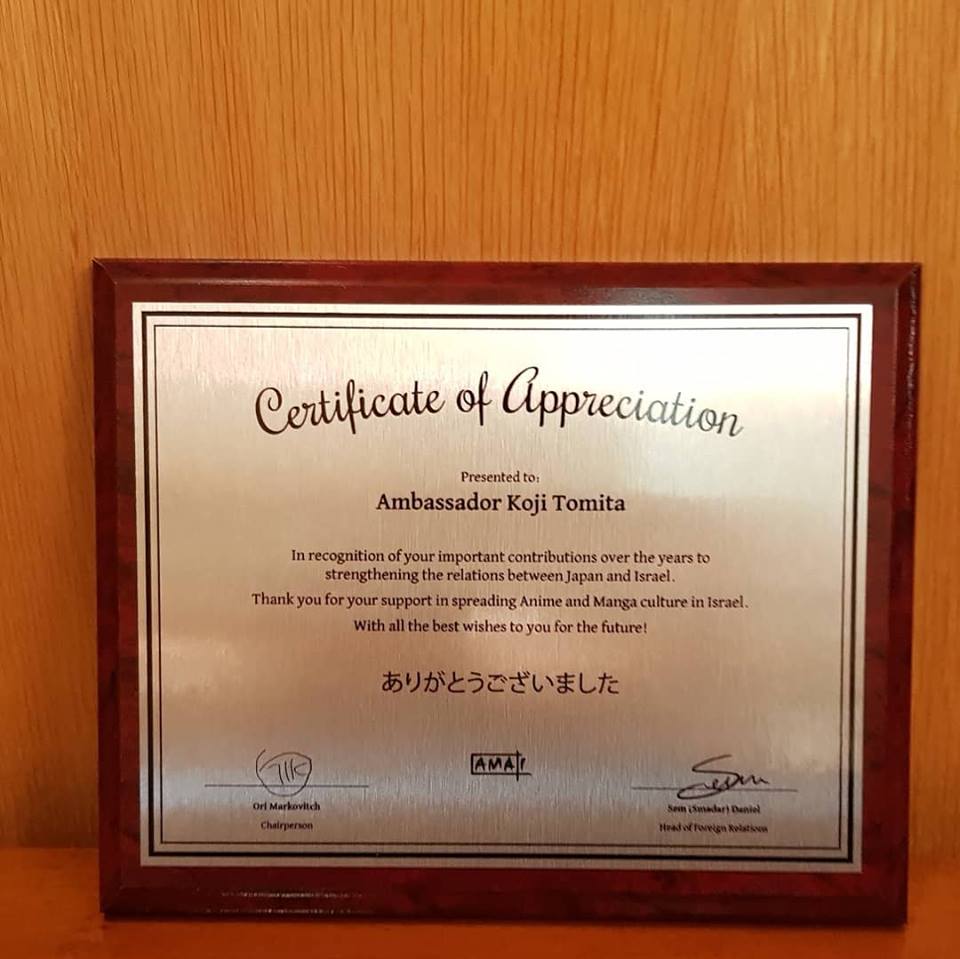 Ambassador Tomita was presented with a plaque thanking him for his efforts to strengthen bilateral diplomacy. Guests also left personal gifts, and signed a guestbook with messages of appreciation and best wishes for the ambassador and his family.
Among the guests were Karnit Flug, Governor of the Bank of Israel; Ambassador Meron Reuben, chief of state protocol in the Israeli Ministry of Foreign Affairs; Dan Catarivas, Director General – Foreign Trade and International Relations at the Manufacturers' Association of Israel head of International Relations at the Federation of Israeli Economic Organizations (FIEO); Adv. Ze'ev Weiss, Chairman of the Israel Japan Chamber of Commerce and Friendship Society; Yossi Katribas, owner and CEO of Yoka Global; Dror Vered, founder of Gateast International Trading, and Nina Admoni, one of the thousands of Jewish refugees saved by Japanese Consul Sempo Sugihara during World War II.
Diplomacy.co.il thanks Ambassador Tomita for his contributions to strengthening ties between Israel and Japan, and wishes him and his family much success in their future endeavors and travels.
Photos by Silvia Golan
Steven Aiello
Founder--DebateforPeace

Details

Written by

Prime Minister's Media Adviser
Prime Minister Benjamin Netanyahu and his wife Sara, this evening (Tuesday, 3 July 2018), attended an event in honor of American Independence Day hosted by US Ambassador to Israel David Friedman.
Prime Minister Netanyahu:
"It's a wonderful celebration of 4th of July anytime in Israel but this year it's special. This year President Trump moved the embassy after declaring Jerusalem Israel's capital. In the UN -- a powerful defense of Israel day in, day out.
And you remember that Iran nuclear deal? Remember that? President Trump decided to leave this bad deal and he did the greatest thing for the security of the world and for the security of Israel. Now, you should know that this is not yet universally accepted. And I can tell you that this week there's going to be a meeting and the meeting is going to be in Europe. Can you hear me? You got to hear this. Listen to me carefully. There is a meeting this week by the P4 without the United States. They are going to discuss how to go around the decision that President Trump and the United Stated made to leave this bad deal, which is funding Iran's terrorism and its aggression with billions of dollars.
There is in the same week something extraordinary. The P4 invited Iran's President Rouhani to attend that meeting. But at the same time, in recent days, this same regime dispatched a terrorist cell to carry out a major terrorist action in France. The commander of this terrorism cell was an Iranian diplomat in Austria. Fortunately, the plot was exposed. The cell's Iranian members were arrested in France, Belgium, and Germany. France and Germany are part of the P4. At the time of their capture, the cell members had explosives, detonators and more. European authorities are now completing their investigation and are expected to charge the Iranian agents and cell members behind the plot.
This Iranian terror plot was planned on the soil of Europe on the same week that the European leaders are supposed to meet the President of Iran about circumventing the sanctions on Iran. Here's my message to the European leaders: Stop funding the very regime that is sponsoring terrorism against you and against so many others. Stop appeasing Iran.
This is what President Trump has said but he's gone well beyond saying it. This is what he is doing. And we in Israel can appreciate this.
We're grateful for America's independence. We're grateful for America's strength. We're grateful for America's alliance with Israel.
Now, you know I'm both the Prime Minister and the Foreign Minister so I can tell you: We have relations with 160 countries and some of these are terrific friends. But there is no friendship like the friendship between Israel and the United States of America. American has no greater friend than Israel. Israel has no greater friend than America.
What makes this alliance so powerful? So enduring? What makes it so? Well, one thing – common values. We have common values that are clear – it's freedom, liberty, democracy. These aren't hollow slogans. They are the bedrock of Western civilization. They're the secret of America's success and of Israel's success. They're the secret of our ingenuity – Israel's and America – the big leaders of technology in the world. I'm a diplomat so I have to be careful. There are only two places, they say, where everything is happening. We have tremendous respect for American ingenuity, for American creativity, for American mobility, for American capacities in every field. And we know where that comes from. It comes from a free society, from free discussion. We argue about everything. Believe me, I know. We have a free press. Believe me, I know. We have free speech. We have freedom of religion. Freedom, liberty, democracy. Real values. Here's what the Liberty Bell says, inscribed on it: 'Proclaim liberty throughout the land unto all of its Inhabitants'. We know that phrase. It comes from the Bible. It comes from Leviticus. So much of America's heritage is rooted in the Hebrew Bible. It is in the Bible that our prophets consoled us. They said the exiles will be gathered back to our ancient homeland. We will restore our national life here. We will restore our capital Jerusalem.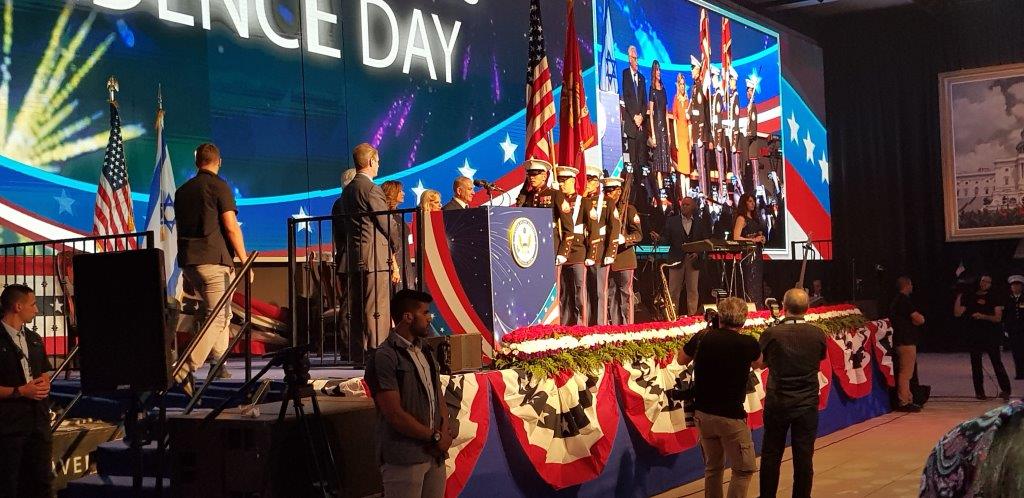 And 70 years later, President Trump brought the embassy to Jerusalem. David, I have one message for you. I have one request: Next year in Jerusalem. This is a fine and beautiful hall, immaculately done. Next year in Jerusalem right next to the American embassy. There can't be a more glorious gathering with greater friends.
Thank you all. God bless America. God bless Israel and God bless the alliance between America and the State of Israel."
Photos by Silvia G. Golan
Details

Written by

Buzzy Gordon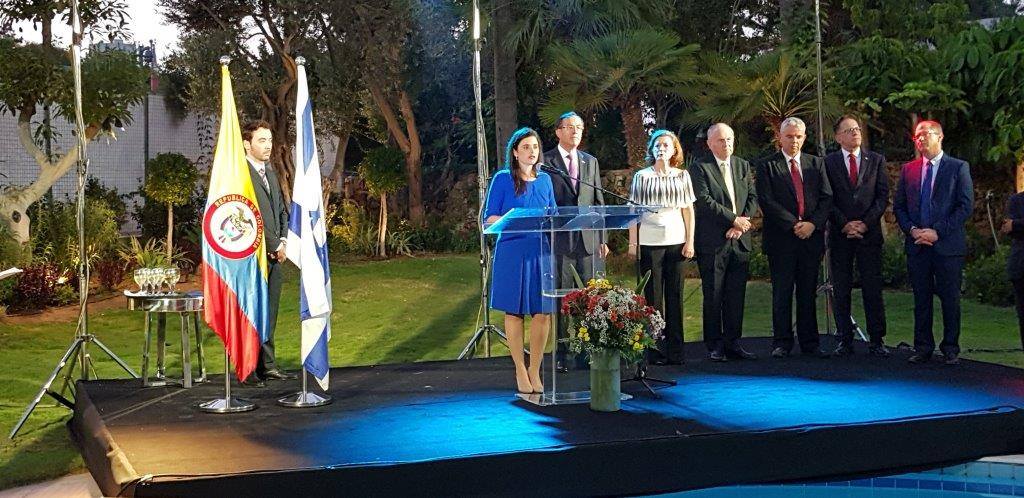 The embassy of Colombia held a gala evening on July 24, 2018, at the Kfar Shmaryahu residence of Ambassador Carlos Morales and Mrs. Betty Morales , to mark the occasion of 208 years of the country's independence.
The event celebrating Colombia's national day was attended by Justice Minister Ayelet Shaked representing the State of Israel, Members of Knesset, ambassadors and members of Israel's diplomatic and business communities, and many Colombian nationals residing in Israel.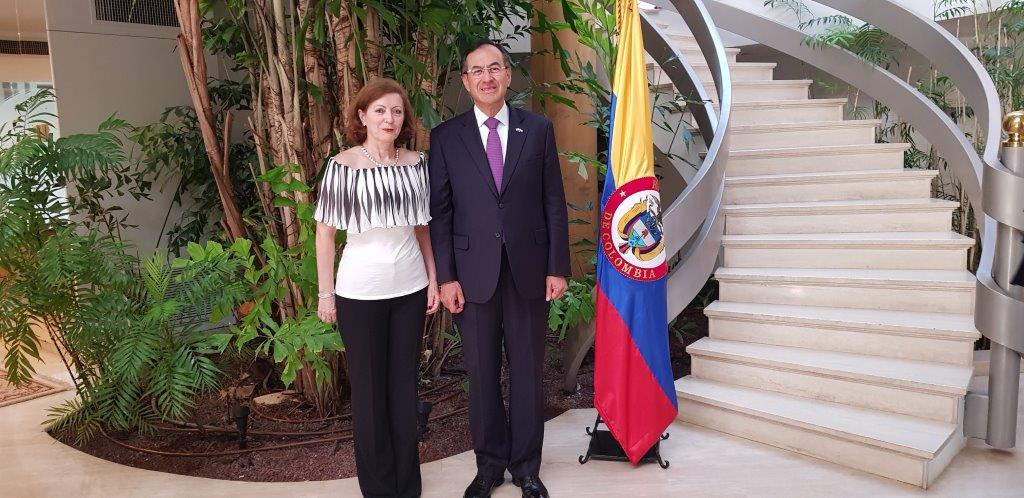 Following the playing of the national anthems of Colombia and Israel, and a toast in honor of the South American nation, Ambassador Morales delivered the following remarks:
"Her Excellency Ms. Ayelet Shaked, Minister of Justice of the State of Israel; the Honorable Oded Forer, Member of the Knesset and President of the Parliamentary Friendship Association Israel-Colombia; His Excellency Ambassador Meron Reuven, Chief of State Protocol; His Excellency Ambassador Modi Eprahim, Deputy Director General for Latin America and the Caribbean; their Excellencies Ambassadors and Members of the Diplomatic Corps; Mr Tzahi Braverman, Secretary of Government of the Office of the Prime Minister; Ambassador Jaime Aron, Honorary Consul of Colombia and Mrs. Maria Aron; distinguished representatives of the Government of the State of Israel; Mr. Dor Aloni, Intendant of Kfar Shmaryahu; Presidents of the Chambers of Commerce of Jerusalem and Tel Aviv; Colombian Military Attaché and Air Attaché; CEOs of Companies, members of the group "Salsa Viva" and Adi, which will perform tonight, special guests, fellow Colombians, Ladies and Gentlemen.
"On behalf of my wife Betty and I, we would like to thank the presence of Her Excellency Mrs. Ayelet Shaked, Minister of Justice of the State of Israel and all of you in the celebration of the 208th anniversary of National
Independence, which we understand as a genuine demonstration of your appreciation for Colombia and for our diplomatic mission in Israel.
"As it is the first time that I've had the honor to be the host of this significant event, allow me to thank through Your Excellency, Mrs. Shaked to the Israeli Nation and its Government for the warm welcoming that has been
dispensed since my arrival to this country.
"In particular, I want to commend Ambassador Jaime Aron, Honorary Consul of Colombia and his wife Maria for their valuable support and advice. They are not only a wonderful Israelis but also great Colombians.
"Since 1957, our countries have maintained relations that are characterized by friendship, mutual agreement, and a remarkable cooperation in all ambits.
"The State visit of President Santos to Israel in June 2013 and of Prime Minister Netanyahu to Colombia in September of last year, are a clear demonstration of the high-level achievement of bilateral relations.
In the commercial field, we have before us a promissory future to strengthen investment and the exchange of goods and services.
We aspire that this year, the Free Trade Agreement is further enforced, facilitating and diversifying imports and exports.
"We have worked and will continue to, with our maximum efforts to increase cooperation in security and defense; in education, agriculture; technology,
innovation, cultural exchanges and of course in tourism, which numbers show an annual increase of 10%. We wish for more Israelis to visit
Colombia and for more Colombians to fulfill their dream of visiting the Holy Land.
"A few weeks ago, we peacefully celebrated in our country free elections, selecting a new Congress and President of the Republic for the constitutional period of 2018-2022.
"The elected President Ivan Duque, who will initiate his term August 7th, in a ceremony which will be attended by Prime Minister Benjamin Netanyahu, will continue to strengthen the bonds of friendship and cooperation
between our two nations.
"But It is also true that our countries' relations would not be able to fortify without the contribution of many of you that are present here today.
Businessmen, scholars, students, and the thousands of Colombians that have come to Israel and contríbuted to the progress of this country, in the same way, as Israel has received them with solidarity and generosity,
providing them with opportunities both professionally and personally, which has allowed the construction of a better future for them and their families.
"On behalf of everyone, thank you.
"I would also like to thank all of those who have made today's celebration possible, especially to Gaby Danziger who kindly donated the flowers that decorate the residence tonight and every one of my colleagues from the embassy for their enthusiasm and dedication.
"Colombia and Israel are countries although geographically distant, are united by history, the sharing values of democracy and freedom, and the varying challenges that we still face today.
"Israel has been and will continue to be an inspiration and a reference not only for Colombia but for many countries for its perseverance, tenaciousness and unbreakable longing of a country, that despite its difficulties has overcome them and has put itself along with the developed nations in the modern world.
"Thank you."
Speaking on behalf of the State of Israel, Minister Shaked delivered the following remarks:
"Your Excellency, Mr. Ambassador Carlos Morales; distinguished ambassadors and members of the diplomatic missions in Israel; honored guests, Ladies, and Gentlemen.
"Good evening and Buenas Noches. it is an honor and my pleasure to represent the Government and the people of Israel in celebrating Colombia's 208th independence day, and 69 years since the establishment of diplomatic relations between our two countries.
"To begin with, I would like to congratulate the Colombian government and people on having recently conducted free democratic national elections and to thank the outgoing president, Juan Manuel Santos, for the great friendship and amity that he showed Israel.
"At the same time, I would like to wish the newly elected president, Ivan Duque, great success in leading Colombia towards national peace, justice and prosperity.
"The relations between our two countries and peoples have, over the years, been given expression through rich and creative cooperation in many areas. It is important to note that Colombia and Israel share an important strategic relationship that grows by the year. Colombia and Israel enjoy relations of warm friendship between its leaders, and widespread cooperation in the areas of business, culture, tourism and academics, sister cities and many other areas.
"The first visit of a sitting Israeli Prime Minister took place just in September last year. Mutual visits by government ministers and parliamentarians have become common practice. Israel is proud to have had the opportunity to have delivered aid in Colombia's times of crisis. Areas of cooperation between the two countries are many and continue to expand, and Israel is very happy for the positive development in the relations between us.
"Colombia and Israel are also partners in the relentless struggle against the agents of terror that threaten the security and stability of both our countries. And in our immediate neighborhood, Colombia is one of the donor nations to the Multinational Force and Observers (MFO) in the Sinai Peninsula, contributing its soldiers that help in maintaining the calm and stability between Israel and Egypt according to their peace agreement.
"Furthermore, Israel wishes Colombia much success in implementing a comprehensive domestic peace agreement after 52 years of civil strife in which hundreds of thousands of citizens lost their lives. This will lead to great development in Colombia, and Israel is interested in being part of the community of nations that will take part in supporting and nurturing this new era of peace in Colombia.
"Israel is proud of the years of cooperation with Colombia, as a result of which thousands of Colombians have received professional training. I will just mention the joint activities involved in the creation of milk production facilities in the city of Baranquilla and in other regions of the country that aid in advancing the economy as well as contributing to reducing the gap in services received by different sectors in Colombian society. We celebrate the participation of Israeli companies in Colombian national projects such as infrastructure, public transportation and telecommunications, as well as in every other area from agriculture to innovation.
"Israel imports from Colombia, among other things, coffee, and much coal for our energy needs, an initiative taken by our then ambassador Haim Aharon, who is today Colombia's Honorary Consul in Israel.
"Your Excellency the Ambassador, respected guests: on this evening, when Israel and Colombia celebrate together in this wonderful Latin atmosphere, after a very impressive performance in the Mundial, and just before the appearance of the famous pop performer "Vives", I invite everyone to join me in raising a glass in congratulating both the outgoing and incoming Colombian presidents, in celebrating the warm relations between our two countries and wishing Colombia a future of peace, stability, security and prosperity. L'haim! Salud!"
Following the speeches, attendees enjoyed a Show of folk dances by the troupe Salsa Viva Tango Vivo, which is in Israel to perform at a dance festival at the Suzanne Dallal Center in Tel Aviv. Additional music was provided by DJ Adi.
The evening concluded with a buffet prepared by the Argentinian-Israeli caterer Mabel Jaitt.
In addition to the personalities mentioned by Ambassador Morales in his remarks, other distinguished guests attending the event included Shmulik Bass, Director, Department of South America, Ministry of Foreign Affairs; Mr. and Mrs. David de la Rosa, former ambassador of Colombia to Israel and Mrs Grace de la Rosa; Professor Shimon Shitrit, former cabinet minister;
Roberto Spindel, President, and Gabriel Hayon, CEO, of the Israel-Latin American Chamber of Commerce; Leon Amiras, Esq., President of the OLEI; Superintendent Moti Meiry, representative of the Israel Police; and prominent members of the South American community in Israel.
The editorial staff of Diplomacy Israel extends their best wishes to Colombia on the occasion of its national day.
Photos by Silvia G. Golan
More pics at Facebook Israel Diplo
Details

Written by

Steven Aiello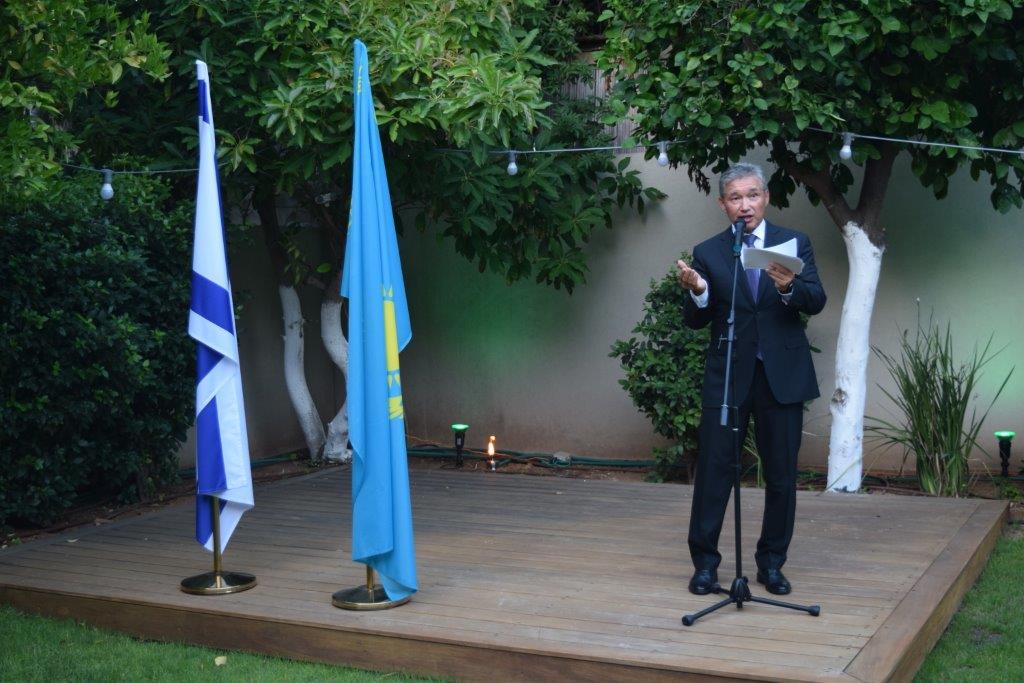 Capital Day came early in Tel Aviv, as the Embassy of Kazakhstan to Israel held a reception at the residence of Ambassador Doulat Kuanyshev in Herzliya. Capital City Day is an annual celebration of the establishment of the status of Astana as the new capital city of Kazakhstan. For the last decade, the occasion has been celebrated as a national holiday in Kazakhstan and among Kazakhstan nationals and friends abroad. This year was a milestone anniversary, marking 20 years since the capital first from moved from Almaty.
Diplomats, political and civil society leaders, and others with close ties to Kazakhstan enjoyed a relaxed evening with music, a buffet including traditional Kazakstani dishes like Samsa and Palot, along with top Israeli products.
H.E. Ambassador Kuanyshev spoke about the initial struggles to move the capital city in the 1990s, and about Astana's success as representative of Kazakhstan's innovation, growth, and success other the last two decades. The ambassador promised that this growth would continue, citing as an example the Astana International Finance Center as a potential regional hub.
Ambassador Kuanyshev also cited the role that Astana has already played in promoting global peace and prosperity. Astana has hosted a number of historic conferences: OSCE summit; Shanghai Cooperation Organization summit, the first summit of the Organization of Islamic Cooperation on Science and Technologies, and the World Expo-2017, as well as the signing of the Treaty on establishing the Eurasian Economic Union.
Among the distinguished guests at the reception were Walter Bingham, Guiness World Record-holding Israel National Radio host; Alexander Ben Zvi- Deputy Director General, Head of the Euro-Asia Division at the Israeli Ministry of Foreign Affairs; former Israeli Prime Minister Ehud Olmert, Yair Stern, General Director of the Jerusalem Symphony Orchestra, and his wife Dassie, who was born in Kazakhstan.
Diplomacy.co.il congratulates the Embassy of Kazakhstan and the people of Kazakhstan on the milestone anniversary and offers best wishes for many years of success, growth, and strong bilateral relations.
Ambassador Kuanyshev's full remarks:
Excellencies,
Ladies and Gentlemen,
Dear Friends!
Thank you for honoring us with your gracious presence. We are here to mark the 20th anniversary of the Сapital city of Kazakhstan – Astana.
In 1995, when Kazakhstan was under IMF program, IMF mission was pressing President Nazarbayev to postpone all the plans of moving the capital citing huge economic burden. I was present at those highly confidential and heated negotiations in my capacity of the press-secretary to the President who stood firm.
Over these two decades, extensive efforts have been done to build a new capital almost from scratch. Nowadays, Astana is the symbol of Kazakhstan and the flagship of its development.
Astana's become an urbanization of over a million of people, a model of modern architecture and design, center of healthcare, education and innovations. Moreover, it aims to become the Dubai of Central Asia by creating Astana International Financial Center.
It is our hope, and Astana hosts a lot of hope: from large-scale development initiatives: the Silk Road Economic Belt was announced by Chinese leader Xi Jinping's on his state visit to Astana in 2013, to world peace and accord – through the religious leaders (including Chief Rabbis of Israel) regularly meeting in Astana to promote inter-confessional dialogue, to a hope of mediating Syrian talks.
During these years Astana hosted the Summit of the OSCE, the historic Summit of the Shanghai Cooperation Organization, which culminated with the accession of India and Pakistan into this influential organization, the first summit of the Organization of Islamic Cooperation on Science and Technologies. The Treaty on establishing the Eurasian Economic Union was also signed in Astana.
In 2017, Astana hosted World EXPO-2017 exhibition, with high-profile Israeli presence.
As you may know, Israelis as well as citizens of 66 other countries can visit Kazakhstan without visas. We hope to sign the same regime for Kazakh tourists to Israel by the end of this year. I am confident it will imminently call for direct flights between our countries to boost reciprocal tourism and exchanges. So, taking this opportunity, I would like to invite you all to our country to taste our hospitality and kindness, and join the large-scale celebration events to be held in Astana on July 6.
Steven Aiello
Founder--DebateforPeace
Photos by Silvia G. Golan