Diplomatic Events
Details

Written by

Steven Aiello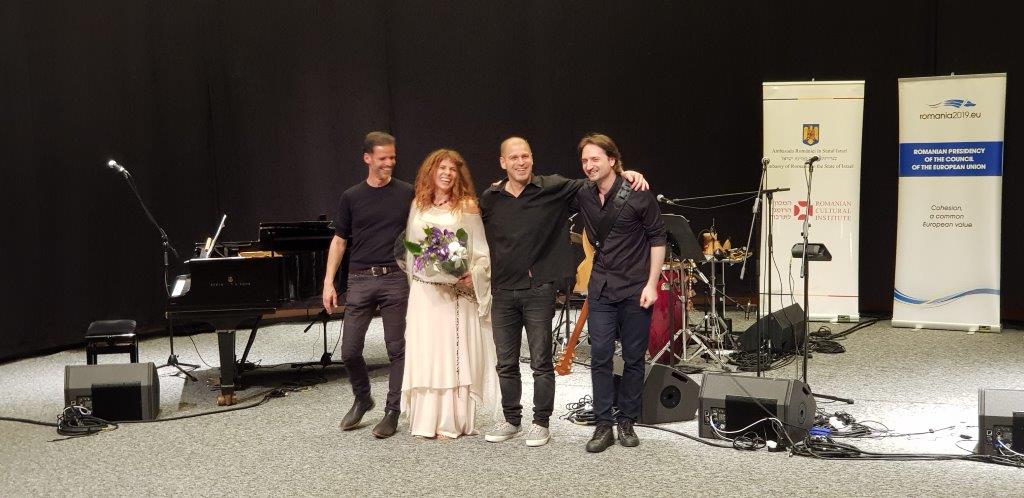 On Wednesday evening, March 6th, the Embassy of Romania in Israel together with the Romanian Cultural Institute in Tel Aviv celebrated Romania's Presidency of the European Union Council with a multicultural concert held at the Enav Cultural Center. Romanian Jazz vocalist Teodora Enache dazzled the audience with a rich repertoire of songs in different languages.
Enache is a world-class singer, familiar with fusing different genres. The concert in Tel Aviv, titled "Roots-Shorashim", featured Romanian and American jazz, Israeli, traditional Romanian and Sephardic songs, as well as unique compositions from Enache herself. Enache was accompanied by Brazilian percussionist Joca Perpignan, Israeli pianist Gil Zohar, and Romanian guitarist Calin Grigoriu, further adding to the intercultural and international theme of the conference.
The concert was built around Enache's belief that "regardless of the place where we are born, and beyond any social, religious or ethnic limitations- we all share the same root." As such, guests included both diplomats and Israeli and Romanian citizens. Following the concert, guests were invited to a reception to continue the celebration.
Romania holds the EU Council Presidency from January 1 to June 30, 2019, in conjunction with Croatia and Finland. This is Romania's first time holding the presidency. Romanian has set as its priorities during this period promoting a Europe of convergence, a safer Europe, Europe as a strong global actor, and a Europe of common values, under the common theme of "cohesion."
Steven Aiello
Founder--DebateforPeace
Photos Silvia Golan
Details

Written by

Silvia G Golan
The Taiwan External Trade Development Council (TAITRA) will open its 63rd overseas office in Tel Aviv.
Please join us in witnessing the launch of this new platform for economic cooperation between Israel and Taiwan!
Israel and Taiwan-Complementary Advantages
Israel and Taiwan have many things in common. Both are small countries surrounded by the challenging environment; both have limited natural resources but worked hard and stood out in the world economy; both are democracies that recognize the value of education, and both foster high levels of entrepreneurship.
Israel is a startup nation and a global hub of tech and R&D centers that gave rise to successful stories such as Mobileye, Gett and many more. Meanwhile, Taiwan is a supply chains nation and home to the world's most powerful electronics industry. Taiwan is one of the world's top ICT manufacturers: 83% of global laptops, 50% of desktops, 90% of motherboards are made by Taiwan. Taiwan was ranked the world's 18th largest trader in 2017, registering 317 billion dollars in export and 259 billion dollars in import, and the world's 13th most competitive economy in the 2018 Global Competitiveness Report released by The World Economic Forum.
Located in the heart of Asia, Taiwan has formed deep connections with the markets of China and South East Asia. Israel has great influence in America and Europe. Together, the complementary advantages of Israel and Taiwan could enable both countries to achieve new heights in the international market. A close partnership synergizing the idea innovations of Israel and the manufacturing innovations of Taiwan will generate immense benefits for everyone in the world to enjoy.
Facts about TAITRA/Taiwan Trade Center, Tel Aviv
Founded in 1970, TAITRA is Taiwan's foremost trade promotion organization. With the inauguration of Taiwan Trade Center, Tel Aviv, TAITRA now operates 63 offices around the world with a team of 1,300 specialists. Nowadays, TAITRA serves as a smart integrator that connects businesses with opportunities. In the future, Taiwan Trade Center, Tel Aviv will focus on facilitating cooperation and exchange between Taiwan and Israeli businesses.
For more about TAITRA, see: https://www.taitra.org.tw/About-TAITRA#
Facts about Taiwan
18th largest exporter (2017)
PPP per capita: US$ 49,827, 21st in the world (2017, IMF)
Investment Climate: 3rd/50 (2018, May Business Environment Risk Intelligence)
Index of Economic Freedom: 13th/186(2018 Feb, Heritage Foundation & The Wall Street Journal)
Innovation: 11th /137(Global Competitiveness Report 2017-2018, World Economic Forum)
Literacy rate (15 or older): 98.8% / Institutions of higher learning: 144(2017)
Outlays for education, science, and culture: 20.2% of central government budget (2017)
More about Taiwan: http://multilingual.mofa.gov.tw/web/web_UTF-8/MOFA/glance2018-2019/English.pd
Photos Silvia G. Golan
Details

Written by

Prime Minister's Media Adviser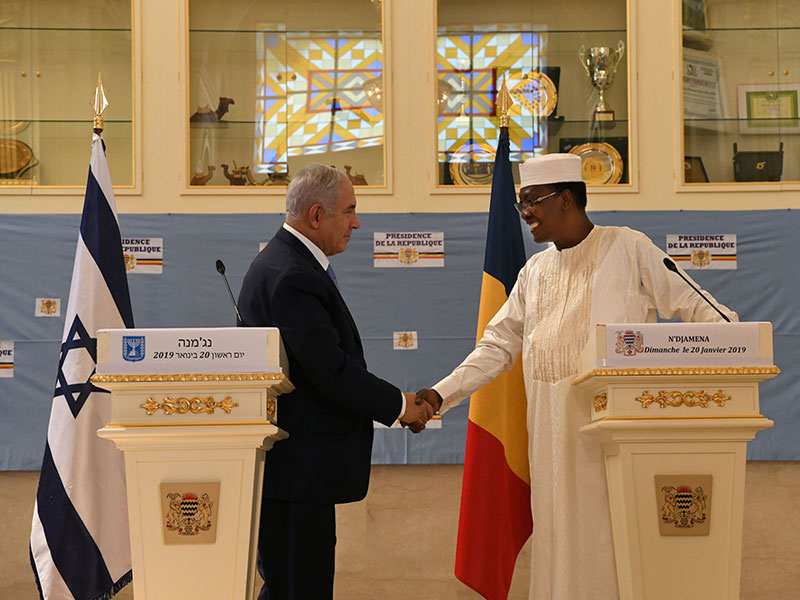 PM Netanyahu: Israel is making inroads into the Islamic world. This is the result of considerable effort in recent years. We are making history and we are turning Israel into a rising global power.
Prime Minister Benjamin Netanyahu and Chad President Idriss Deby, today (Sunday, 20 January 2019), at the Presidential Palace in Ndjamena, the capital of Chad, announced the resumption of diplomatic relations between Chad and Israel. The two sides will presently sign an official memorandum on the resumption of relations between the two countries.
The announcement was made in the framework of Prime Minister Netanyahu's historic visit to Chad.
The two sides view the resumption of relations as the key to future cooperation for the benefit of both countries.
Following are Prime Minister Netanyahu's remarks at the joint statements:
"The first and most important thing is to thank you for your warm welcome to me and my delegation. I'm honored to be the first Israeli Prime Minister to visit your beautiful country.
This is a historic visit that follows another historic visit: your visit two months ago to Israel. Now I'm visiting Chad for the first time. I'm here to formally re-establish our diplomatic relations. Chad is a very important country and a very important country for Israel.
The future of Africa depends on the future of the Sahel. What happens here could affect the entire world. We understand, you understand. We have to make sure that critical allies understand this. And so we have a partnership in trying to forge a prosperous and secure future for our countries and in a larger sense for Africa and beyond.
This is what we discussed today in great detail. There is a lot that we can do together and we discussed how to deepen our cooperation in every field beginning with security, but also agriculture, food, water, energy, health and many more. And I believe that this cooperation will build a better, safer and more prosperous future for both our peoples.
President Déby, you have a vision, of how to raise the possibilities for your people, for your country and for your region and I'm your partner in that. It's significant for us that Chad is a country with a Muslim majority that seeks the friendship of Israel. There are many such countries, but in Africa this is particularly significant. And we seek the friendship of other countries in Africa and I'm glad to see that this process that others are following in your footsteps.
My visit to Africa comes after a horrendous terror attack in Kenya, and there have been terrorist attacks of Boko Haram in this region as well. I agree with you, Mr. President, that we have to band together to fight this evil and we are ready to do so in full cooperation with you as we cooperate with other countries that want to stamp out terrorism.
I believe that the battle is far from being lost, that we can defeat these forces if we join hands.
And we believe in the future of Chad and the future of Africa. This is my fourth visit to Africa in four years. I think it says something, and indeed, we are committed to making every effort to help alongside with the United States with the program Power Africa to help light up African countries. And thanks to a recent government resolution, more Israeli countries will soon join development efforts in Africa. In March, we're going to have a special delegation of Israeli companies come to Chad to see the various possibilities that the President and the Government of Chad are opening up for Israeli companies and I think the opportunities are vast.
So I believe in your future, I believe in our future, I believe in the future of our friendship. But let me add something else that I discovered today: President Déby likes to read history. I like to read history. We were talking about that you cannot have a vision of the future if you don't understand the past. We were talking about WWII. President Déby told me about the deep impression that his visit in Yad Vashem and previous contacts with the Holocaust made on him. But I learned today about the fate of African fighters, soldiers, in WWII, prisoners of war who were murdered by the Nazis, specifically because they were black. This is a story that has to be told. You suffered because you were black; we suffered because we were Jews. We refuse to accept this fate and we raised ourselves from defeat to create a new future for ourselves and for each other. This is a triumph of the human spirit and this is what we seek to accomplish in these historic visits.
We are making history, and indeed, thank you for this visit and thank you for enabling us to do historic things for our peoples."
​
Video: Itai Beit-On, GPO
Sound: Nir Sherf, GPO
Photo PM Netanyahu and Chad President Idriss Deby at the Presidential Palace in Ndjamena . Photo: GPO/Kobi Gideon.
Details

Written by

Silvia
Photo: President Rivlin with Ambassador of Vietnam, Do Minh Hung.
President Rivlin today accepted diplomatic credentials from new ambassadors to Israel from Vietnam, Nepal, Kenya, and Montenegro
New ambassadors from Vietnam, Nepal, Kenya, and Montenegro presented their credentials today, Thursday 14 February / 9 Adar I, to President Reuven (Ruvi) Rivlin at the beginning of their term as ambassadors of their countries to the State of Israel, in an official ceremony at Beit HaNasi. As each ambassador arrived, the Israel Police band played the national anthem of their country and the ambassador then reviewed an IDF honor guard. After presenting their diplomatic credentials to the president, the ambassadors signed the guest book and Hatikva, Israel's national anthem, was played at the end of the ceremony.
The first to present his credentials to the president was the incoming Ambassador of Vietnam, Do Minh Hung. President Rivlin asked the ambassador to send his best wishes to the President of Vietnam, who he met on his state visit to the country two years ago and invited his counterpart to visit Israel. "Relations between our country have grown stronger in the fields of education, agriculture, and defense since my visit to Vietnam," said the president. "Many Israelis enjoy visiting Vietnam and I am sure that opening up direct flights and signing the free trade agreement can create further opportunities for deepening our relations."
The Ambassador of Vietnam thanked the president for his warm welcome and said "thank you for your warm words. I will send your best wishes to the President of Vietnam. It is a great honor for me to serve as my country's ambassador to the State of Israel and I will do all I can to deepen and widen the relations between our two countries."
Photo: President Rivlin with Ambassador of Nepal Anjan Shakya
Following this, Ambassador Anjan Shakya of Nepal presented her credentials to the president. President Rivlin thanked her and noted that next year we will mark 60 years of diplomatic relations between the two countries. "We appreciate your contributions to regional security through UNIFIL and UNDOF. It gives you a perspective of the threats we face." He added, "we see Nepal as a true friend who stands by us, just as we were at your side when you dealt with the terrible earthquake in 2015."
The Ambassador of Nepal presented her credentials to the president and noted the long friendship between the two countries. "On behalf of the president and the prime minister, I would like to invite you on a state visit to Nepal and send their warmest best wishes. Despite only arriving here a week ago, I can already see that there are many possibilities to widen the cooperation between us in a number of fields, including agriculture, education, health and IT." The ambassador ended her remarks by saying 'Shalom v'Toda Raba' (goodbye and thank you) in Hebrew.
Photo: President Rivlin with Ambassador of Kenya, Samuel Ng'ang'a Thuita
Kenya's new ambassador to Israel, Samuel Ng'ang'a Thuita, was the next to present his credentials to the president, who began by sending his condolences to the people of Kenya on the recent terrorist attack in Nairobi. He then spoke about the growing trade relations between the two countries, saying "we recently opened a trade delegation at the Israeli Embassy in Kenya and we hope to see direct flights between the countries soon. These are good signs and I believe we can do even more to improve relations."
The ambassador thanked the president, saying "since 1963 when Golda Meir visited Kenya, we have worked together on a range of issues. Once, the focus was agriculture, and now we cooperate on security and counter-terrorism. Israel has a true friend in Kenya."
Photo: President Rivlin with Ambassador of Montenegro, Ivan Lekovic
The last ambassador to present his credentials was Ivan Lekovic of Montenegro. "Montenegro is a country with a growing economy, and we are proud to support you as friends and allies," said the president, and wished the country well on joining NATO and its future membership of the European Union. The president thanked the ambassador for his country's decision to recognize International Holocaust Remembrance Day and for supporting its Jewish community.
The Ambassador of Montenegro to Israel thanked President Rivlin for his cordial welcome and said, "we are preparing for the exciting and important visit of the President of Montenegro to Israel, who sends his warmest regards. Montenegro, like Israel, has many different cultures and religions. Like you, we believe that the best way to live together is open and respectful dialog. The relations between our two countries are excellent and we cooperate in tourism and cultural and academic exchanges, as well as in the security sphere, and we would be happy to extend this cooperation."
Photo credits: Kobi Gideon (GPO)
Details

Written by

Philippine Embassy
Asia Pacific Group of Ambassadors call on Supreme Court President
13 January 2019, Jerusalem - The Asia Pacific group of Ambassadors called on Supreme Court President Ester Hayut last Sunday, 13 January. The group was comprised of the Ambassadors of Australia, China, Japan, Republic of Korea, Myanmar, the Philippines, Sri Lanka, and Thailand. Justice Hayut was accompanied by four Supreme Court Justices.
The call was part of the Asia Pacific group of Ambassadors' efforts to engage with the leadership of different branches of the Israeli government and explore ways to deepen cooperation between Israel and the Asia Pacific region.
Seated, L to R: Supreme Court Justice Uzi Vogelman, Supreme Court Justice George Karra, Supreme Court President Esther Hayut, Supreme Court Justice Daphne Barak-Erez, and Supreme Court Justice Alex Stein.
Standing, L to R: Ambassador Penprapa Vongkovit (Thailand), Ambassador Maung Maung Lynn (Myanmar), Ambassador Christopher Cannan (Australia), Ambassador Periyasamy Pillai Selvaraj (Sri Lanka), Ambassador Choi Yonghwan (Republic of Korea), Ambassador Koichi Aiboshi (Japan), Ambassador Neal Imperial (Philippines), and Ambassador Zhan Yongxin (China).
Photo provided by Philippine Embassy