Science & Technology
Details

Written by

Prime Minister's Media Adviser
We will continue to take strong and determined action against Iran's attempts to station forces and advanced weapons systems in Syria. Whoever threatens us with destruction puts himself in similar danger, and in any case will not achieve his goal.
Following is an excerpt from Prime Minister Benjamin Netanyahu's remarks today (Wednesday, 29 August 2018), at the renaming ceremony for the Shimon Peres Negev Nuclear Research Center:
"Shimon aspired toward peace but he knew that true peace can be achieved only if our hands strongly grasp defensive weaponry. In the Middle East, and in many parts of the world, there is a simple truth: There is no place for the weak. The weak crumble, are slaughtered and are erased from history while the strong, for good or for ill, survive. The strong are respected, and alliances are made with the strong, and in the end peace is made with the strong.
This process, of normalization by leading countries in the Arab world with the strong State of Israel, is happening before our eyes on a scale that would have been impossible to imagine a few years ago. This process bears hope within it that, in the end, the cycle of peace will be completed. But it is impossible to deny the fact that there are yet many enemies in this region and beyond.
But our enemies know very well what Israel is capable of doing. They are familiar with our policy. Whoever tries to hurt us – we hurt them.
I am not spouting slogans. I am describing a persistent, clear and determined policy. This is our policy. It is backed by appropriate deployment, equipment, preparedness and – in the hour of need – appropriate orders.
We are working to prevent Iran from establishing a military presence in Syria. We will not relent in pursuit of this goal just as we did not relent in bringing about the cancellation of the bad nuclear agreement with Iran, a goal which was seen as impossible when I put it on the international agenda for the first time several years ago.
In the diplomatic sphere, we will continue to apply pressure on the dangerous, extremist regime in Iran. Just yesterday we saw the fruit of this pressure in remarks by the Iranian President who said that many among the Iranian people have lost hope in the future and strength of Iran due to the resumption of economic sanctions. In the military sphere, the IDF will continue to take strong and determined action against Iran's attempts to station forces and advanced weapons systems in Syria. No agreement between Syria and Iran will deter us; neither will any threat deter us.
Whoever threatens us with destruction puts himself in similar danger, and in any case will not achieve his goal."
PM Netanyahu at the renaming ceremony for the Shimon Peres Negev Nuclear Research Center
PM Netanyahu at the renaming ceremony for the Shimon Peres Negev Nuclear Research Center .
Photo: GPO/Kobi Gideon
Details

Written by

Silvia G Golan
VDroom has launched a machine-learning based smart gallery that displays the hotel's best images in an optimized order. Israeli start-up VDroom continues to surprise and reinvent the field of hospitality
In recent years, the field of hospitality has gone through a virtual revolution of the booking process, and this is precisely where VDroom is aiming - Led by Michal Hubschmann and her team, the company has recently begun working with several multinational chains and is increasing the number of clients joining at a rate of over 100% a month over the past year.
Following this success, VDroom has launched a smart 360°/VR gallery that is displayed right by the hotel's 2D gallery. Based on machine-learning, the gallery has the ability to identify and display the best performing images in order to increase chances of conversion. The algorithm knows how to calculate the most relevant parameters in order to display the images in the most efficient order.
"In recent years something has been happening in the virtual field," says Hubschmann. "There is also a push on Google and Facebook's part, and we are taking advantage of this opportunity, using our intuitive user interface - we run hundreds of tests simultaneously in real time to achieve this level of search engine optimization. In fact, we approach the hotels and apartment owners and tell them - if you leverage your images you can also leverage your revenue.
"The hotels and rental apartments invest millions of dollars in commissions to keep their properties at maximum capacity. Property owners need to ask themselves how they can distinguish themselves from the competition in order to increase their revenues and the value they provide to their customers"
What is the secret that makes this technique work so well?
"The secret is in the simplicity and in the efficiency of the technique. Nowadays, hardly anyone makes a hotel room booking without looking through TripAdvisor and getting an opinion about the hotel. In fact, it's the most trusted advice available to anyone who orders a room. We managed to prove that 360°/VR images provide the optimal solution to this issue, by allowing your guests to feel as if they were actually present in the room and touring the hotel. All the other solutions on the market are technologically very heavy, have long loading times and have no machine-learning in the picture display. The simplicity is that in two clicks you get to feel like you are right in the room - in a room that suits you!
What does the hotel need to do in order to connect with this service?
"In fact, the hotel doesn't need to make any developments or change anything on the site - You receive a finished product that links to the existing hotel or rental apartment site and can begin leveraging direct bookings and revenues".
Where did you acquire your experience in this field?
"I lived in the Netherlands for about 16 years and that was where we first established a company in the field of online hotel reservations - and with about 80 employees and a turnover of 100 million euros a year it is already a proven success. Together with the team that worked with us for years, we reunited to establish VDroom. All of our employees are from the hospitality industry and are well acquainted with this field. We can provide a solution that's simple to operate and proven to work, increases hotel room bookings by 35 percent and exposure on Google SERP while remaining very affordable and cost-effective."
https://www.youtube.com/watch?v=XU-sGID17dU
Photo VDroom
Details

Written by

Silvia G Golan
FinTech Junction 2018 conference is taking off
The conference will bring together the pioneers and leaders of the financial technologies in Israel's largest international FinTech conference
This year's edition will take place on Sunday, June 24 at Hilton Tel Aviv
Ben Pelled, FinTech Junction CEO: "Banking is at the end of an era. Startup companies are disrupting the financial services by creating new faster, more efficient and with lower costs. The FinTech revolution is here and at the conference, we'll hear all about it."
FinTech Junction 2018, Israel's largest FinTech conference, connecting leaders and startups in Finance, Technology, Blockchain & Crypto.
The conference, organized by People & Computers, will take place on Sunday, June 24, from 08:00 – 18:00, at Hilton Tel Aviv, and will attract 1,200-1,500 attendees: leaders and startups from the financial industry, banks, insurance companies, fintechs, investors, academia, fintech communities, from Israel and around the world.
Where Startups & Leaders in Finance, Technology, Blockchain & Crypto Meet
Building Together the Future of Financial Services
Israel's largest fintech conference is back! Following the success of FinTech Junction 2017, we're happy to present FinTech Junction 2018. This year we're expecting 1,500+ professional attendees from Israel and from around the world: CXO's, entrepreneurs, investors, innovation and fintech leaders from the leading startups, fintechs, banks, financial institutions, hubs, accelerators and investment companies, private, public, and government-owned.
Our conference will cover the latest and hottest trends shaping the future of financial services, including cryptocurrencies & ICOs, open banking, mobile banking, regulation, cybersecurity, AI, P2P platforms, and more.
FinTech Junction is brought to you by People & Computers – Israel's leading tech media outlet and conference organizer. The company organizes and produces an average of 150 events a year attracting 75,000+ professional attendees and featuring the leading figures in technology and business.
Meet & Connect
Meet the leaders of fintech: the best startups, investors, CXOs, decision makers and fintech and innovation managers in the world's leading fintech companies, banks, financial institutions, VCs, and governments.
Watch, Hear & Learn
Watch, hear & learn from the best thinkers and doers in fintech. Dive deep into the technology, business cases, latest trends and critical questions that are shaping the financial services industry.
Startup Competition
Pitch your startup at the FinTech Junction Startup Competition for a chance to win some amazing prizes (and attract investors along the way).
At the conference, we expect exciting news items, thoughts, and announcements from interesting speakers from Israel and around the world. The full list of speakers and program is available on the conference website.
https://www.fintechjunction.com/
FinTech Junction is organized by People & Computers – Israel's leading tech media outlet and event organizer & producer. The company organizes 150 conferences and events a year.
Details

Written by

Weizmann Institute of Science
The Nature Index of Innovation 2017 points industry to institutions providing ideas behind inventions
The Nature Index, 2017, of the Innovation supplement published today, placed the Weizmann Institute of Science in sixth place in an international ranking of the world's top 200 research institutions. The Index ranked the institutions according to the impact academic research is having on innovation by examining how research articles are cited in third-party patents.
Their rationale: By looking at patents owned by third parties – informed by and citing academic work – rather than those held by institutions themselves, the influence of research on the development of products and services are exposed.
According to Nature, the academic players featured in the index are those "whose ideas may shape tomorrow's inventions. The top of these tables is occupied by both institutions with global reputations for high-quality research and others whose published work is having a disproportionately high impact relative to their size."
The Weizmann Institute of Science in Israel is the only non-US institution in the top ten. It follows such heavyweights as The Scripps Research Institute in San Diego, Rockefeller University in New York and the Massachusetts Institute of Technology in Boston.
David Swinbanks, founder of the Nature Index, said: "This analysis comes at a time when following the transfer of scientific knowledge into industry and the economy is a growing priority for governments and research funding agencies – for them, the need to demonstrate that publicly funded science is being used for society's benefit is paramount."
Prof. Daniel Zajfman, president of the Weizmann Institute of Science said: "Our high place in this index reflects our guiding philosophy, which says that we recruit scientists who are among the best in the world and let them follow their curiosity. That is what leads, in the end to innovative and surprising new applications that shape the future." The Nature index also revealed that the Weizmann Institute of Science not only contributes to third-party patent applications but ranks fifth in applications for patents of its own. This ranking is normalized to the breadth of the scientific activity of the institute.
The supplement is published by Nature together with The Lens and Clarivate Analytics. These provided analytic tools to, in the words of Richard Jefferson, founder of The Lens, create "'innovation cartography' – rendering the complex process of science- and technology-enabled problem solving (STEPS) transparent. It will enable scientists, investors, businesses and policymakers to make better, evidence-based choices of partnerships and pathways to deliver new products, services and practices for society."
This is the first time that the Nature Index data has been normalized against the total research output of an institution in the natural sciences, as indicated by the number of research articles an institution has published in Clarivate Analytics' Web of Science. This provides a measure for comparing institutions' output in the Index relative to their research capacity, which can then be compared to the normalized.
About the Nature Index
First launched in November 2014, the Nature Index database tracks the author affiliations of research articles published in a group of 68 high-quality natural science journals, which have been selected by independent panels of active scientists.
About Nature Research
Nature Research is a portfolio of high-quality products and services across the life, physical, chemical and applied sciences – including journals, databases and researcher services – dedicated to serving the scientific community.
Nature (founded in 1869) is one of the leading, international weekly journal of science. Nature Research also publishes a range of Nature-branded subscription journals, the leading open access multidisciplinary journal Nature Communications, other open access journals including Scientific Reports, and a range of Nature Partner Journals published in partnership with institutions and societies. Together, these journals publish some of the world's most significant scientific discoveries.
About The Lens
The Lens is a free, open and secure global facility to make the innovation system more transparent, efficient, fair and inclusive. The Lens is run by Lens.org a US-registered benefit corporation owned by founders Cambia (a global non-profit social enterprise) and QUT (Queensland University of Technology). The Lens is dedicated to 'Solving the Problem of Problem SolvingTM. In collaboration with global non-profit and public institutions, The Lens serves nearly all of the world's patents as free and open digital public goods integrated and linked with scholarly and technical literature along with regulatory, legal and business data. The Lens creates applications to map the networks of the influence of scholarship on enterprise (In4M and PatCite) and to understand biological sequence patenting (PatSeq). The Lens allows documents, collections, and analyses to be shared, annotated, and embedded to enable Innovation Cartography: the open mapping of the science and technology innovation ecosystem to broaden participation in equitable problem-solving.
About Clarivate Analytics
Clarivate™ Analytics accelerates the pace of innovation by providing trusted insights and analytics to customers around the world, enabling them to discover, protect and commercialize new ideas faster. Formerly the Intellectual Property and Science business of Thomson Reuters, Clarivate Analytics owns and operate a collection of leading subscription-based businesses focused on scientific and academic research, patent analytics and regulatory standards, pharmaceutical and biotech intelligence, trademark protection, domain brand protection and intellectual property management. Clarivate™ Analytics is now an independent company with over 4,000 employees, operating in more than 100 countries and owns well-known brands that include Web of Science™, Cortellis™, Derwent, CompuMark™, MarkMonitor® and Techstreet™, among others. For more information, please visit clarivate.com.
The Weizmann Institute of Science in Rehovot, Israel, is one of the world's top-ranking multidisciplinary research institutions. Noted for its wide-ranging exploration of the natural and exact sciences, the Institute is home to scientists, students, technicians and supporting staff. Institute research efforts include the search for new ways of fighting disease and hunger, examining leading questions in mathematics and computer science, probing the physics of matter and the universe, creating novel materials and developing new strategies for protecting the environment.
Weizmann Institute news releases are posted on the World Wide Web at
http://wis-wander.weizmann.ac.il/
Photo Credit Weizmann Institute of Science
Details

Written by

Silvia G Golan
Bar Refaeli, Amar'e Stoudemire, and Uri Levine Join Forbes in Israel for First-Ever Under 30 Summit Global FORBES UNDER 30
Forbes Under 30 Summit Global will gather an elite community of young international entrepreneurs in Tel Aviv and Jerusalem, May 6-10, 2018
#Under30Summit
TEL AVIV (April 25, 2018) – Forbes released today speakers and the agenda for the first-ever Forbes Under 30 Summit Global which will take place in Tel Aviv and Jerusalem, May 6-10, under the theme "Innovation, Exploration, and Inspiration." The event will bring together an elite community of young international entrepreneurs from the U.S., Europe, Asia, Africa and the Middle East, as culled from Forbes' 30 Under 30 lists around the world.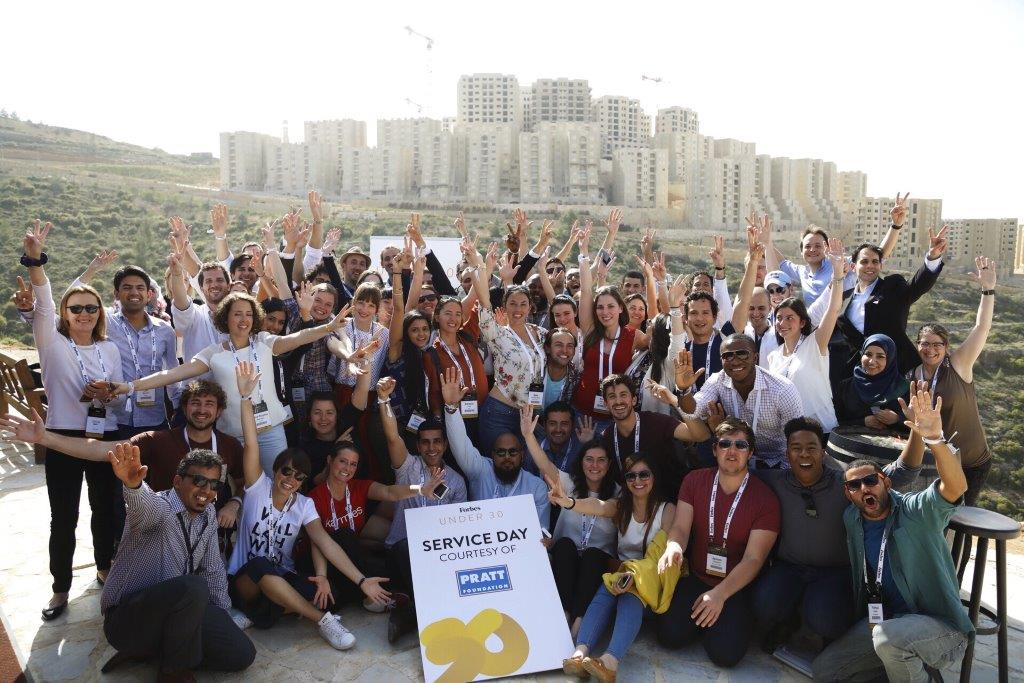 At the summit, Forbes will feature panels, interviews, performances, pitch competitions and keynote addresses, showcasing the most cutting-edge innovators and disruptors, and will provide mentorship from successful business leaders. To view the agenda and speaker line-up, please visit: https://www.forbes.com/forbes-live/event/under-30-summit-global/.
Speakers who will participate in the summit include:
Amar'e Stoudemire, Professional Basketball Player, Actor, Author, Producer & Philanthropist

Bar Refaeli, Model, Entrepreneur, Partner & Owner, Carolina Lemke Berlin

Dr. Ruth Westheimer, Media Personality, Author & Sex Therapist

Kevin Olusola, Musician, Pentatonix

Jennifer Marcou, General Manager, Global Demand Center Relationship Marketing and Privacy, Microsoft

Lonne Jaffe Managing Director, Insight Venture Partners

Uri Levine Co-Founder & Chairman, FeeX; Co-Founder, Waze

Melvin Chen, Founder of StarLake Capital

Yossi Vardi, Internet Entrepreneur

David Fialkow, Managing Director, General Catalyst Partners

Luke Schoenfelder, Co-Founder & CEO, Latch

Katini Yamaoka, Artist & Musician

Lior Krengel, Head of Startups, monday.com
"For the first time ever, we're assembling 30 Under 30 honorees from around the world in one place," said Randall Lane, Chief Content Officer, Forbes Media. "This amazing program leverages the incredible opportunities of our host cities, with the idea that both our participants and the region will see significant gains from this event."
The summit will offer rich cultural immersion activities and a unique global networking environment. Forbes Under 30 Summit Global attendees will have the opportunity to mentor and inspire the next generation of young superstar entrepreneurs in the local communities of Israel.
The morning of Sunday, May 6, Forbes Under 30 Summit Global women participants will ring the Opening Bell at the Tel Aviv Stock Exchange. The summit will officially kick off in the evening with a Taste of Israel Food Festival, bringing the best bites of the region into one place, at sunset, for an opening reception on the shores of the Mediterranean.

On May 7, participants will gather in Tel Aviv for a day of content focused on "Innovation," while enjoying access to an entire Forbes Under 30 Village showcasing displays from young startups, rapid-fire content stages, workshops, networking areas, a VIP lounge and more.

The morning of May 8 will be devoted to VC and Startups, a founders and funders experience in Tel Aviv's startup scene, Forbes is assembling 15 of the world's greatest venture capitalists in the world, from Midas List honoree David Fialkow of General Catalyst to Jerusalem Venture Partners founder Erel Margalit, to partners from Accel, Bessemer and others. Each of these legends will listen to rapid-fire pitches and provide instant advice and feedback. On the adjacent stage, founders and funders alike share their money-raising stories and strategies.

Also on May 8, summit participants will head to Jerusalem for exploring and touring, including a guided tour of the Old City in Jerusalem. The night will close out with a food and bar crawl at the Shuk, the old market of Jerusalem.

May 9 will focus on "Inspiration -- Making a difference, leaving this region better than we found it." Participants will visit sites across Israel and Palestinian cities to cultivate conversations about achieving actionable solutions. The day will end with the Forbes Under 30 All-Night Desert Music Festival featuring Kevin Olusola from Pentatonix.

On May 10, the summit will conclude with a day of inspiration and reflection, starting at sunrise at the Masada fortress and the Dead Sea.
About the Forbes Under 30 Franchise
Forbes' 30 Under 30 franchise is a global platform, which comprises Forbes 30 Under 30 lists featuring young game changers published in print and online all over the world, live summits in the U.S., Asia, Europe and Israel, and an Under 30 Channel on Forbes.com. Nominations are now open for the Forbes 30 Under 30 Class of 2019 - www.forbes.com/30-under-30-nominations/.
To access Forbes magazine's 2018 30 Under 30 list, please visit: www.forbes.com/30under30/#/.
Partners and Sponsors of the 2018 Forbes Under 30 Summit Global
The Presenting sponsors of the Summit are Carolina Lemke Berlin and Microsoft. The Supporting sponsors are Israel Discount Bank, monday.com and Panaya.
For more details on this year's Forbes Under 30 Summit EMEA, please visit: www.forbes.com/forbes-live/event/under-30-summit-global/.
To join the conversation on social, use #Under30Summit.
Photo courtesy Forbes